Chris Pritchard seeks out the serenity on a trip to a perennial Auckland favourite.
The harbour cruise comes as an unexpected bonus. Other cruises exist as deliberate opportunities for tourists to savour the sights of Auckland's spectacular harbour - but not this one.
Instead, this 35-minute voyage is the regular ferry service to Waiheke Island.
As a skyline dominated by taller-than-everything-else Sky Tower recedes into the distance, passengers stand on deck to take in the view. It's calm and sunny - and I feel immensely grateful to a friend who lives in Auckland. She recommended this ferry trip, calling it "a fabulous harbour cruise - only cheaper".
We travel almost 18 kilometres into the Hauraki Gulf to reach Waiheke Island. Among gulf isles, only sparsely-populated Great Barrier Island is bigger.
Waiheke's population, nearly 9000 people, climbs by about 5000 when tourists and owners of holiday homes stay for short periods. Most tourists, however, are on day trips.
The island, by the way, is by no means Auckland's best-known attraction. Some potential visitors don't even hear about it until it's too late. Residents put a positive spin on this, suggesting that being overlooked means that summer crowds are never overwhelming.
But enormous change has come to Waiheke Island over the past 15 years. Previously known to Aucklanders as a delightful "alternative lifestyle" backwater blessed with superb beaches, the resident population was heavily skewed towards creative types and pensioners.
Painters and sculptors favoured it as a base. So did architects, graphic designers and writers. The handful of daily commuters were often in advertising, media or related industries.
Waiheke Island hasn't lost this core group. It still has its organic farmers, secluded "clothes optional" beaches and artists' studios that welcome visitors.
But in recent years house prices have soared, with the island attracting an additional - and influential - demographic: young, educated and affluent property owners commuting each day to high-paying jobs in the city, commonly in the finance sector.
Whether development is good or bad remains a subject for fierce debate on an island that is also increasingly a family-oriented getaway destination for Aucklanders, with an inevitable mushrooming of B&Bs, short-stay holiday apartments and restaurants. Waiheke even has backpacker accommodation and campsites.
Attractions include almost a dozen white-sand beaches, of which the most popular for swimming is Oneroa Beach, near the main town of Oneroa. Despite a busy schedule, I manage to sprawl at the water's edge for an hour.
Another family favourite is 1.87km Onetangi Beach, while Cactus Bay is an attractive hideaway for couples. Visitors who don't rent cars use local buses, with day passes sold by the ferry operator.
But some clearly prefer to vote with their feet. On an island that is largely agricultural, hiking trails head into natural bushland - and options range from long routes to short ambles.
On a drive into the hinterland, I notice visitors with backpacks strolling along quiet country roads.
Avocados have become one of Waiheke's crops but local farmers say cattle and sheep remain economically more important.
The island is also well-known for its olives. Rangihoua Estate, which celebrated its first harvest 16 years ago, has the highest profile among producers. Bottles of its olive oil are popular souvenirs among day-trippers.
However, the island's top crop comes from its vineyards. With 30 producers, Waiheke Island is a significant component of New Zealand's thriving wine industry. Ten vineyards have cellar doors and constitute the island's wine trail. (Tours are available for visitors preferring not to explore independently.)
Because vineyards are small, with limited production, Waiheke wines - which have garnered a slew of awards - are relatively expensive.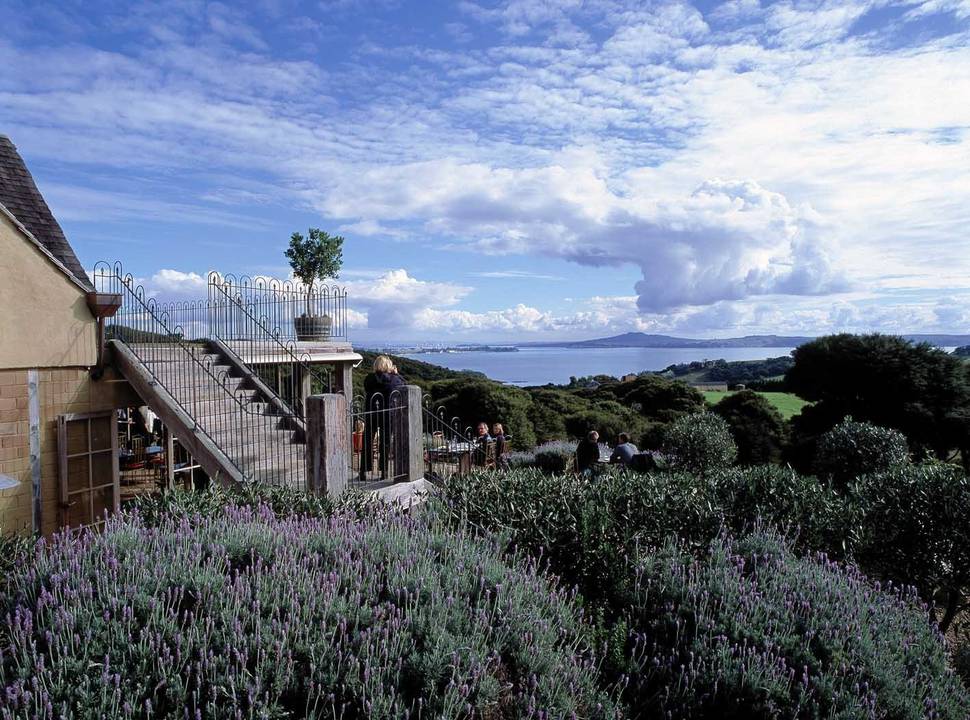 Several cellar doors come with good restaurants boasting strong lunch-time trade. At Mudbrick Vineyard, I dine on scallops and yellowfin tuna before wandering into a cellar where - as at other Waiheke vineyards - cabernet sauvignon, merlot, malbec, cabernet franc and chardonnay are the most prominent varieties displayed.
Outside, vineyards slope gently towards the gulf, where yachts bob gently on their way to Auckland's marinas.
New Zealand's largest city, though in reality very close, may as well be a million miles away.
In the after-glow of a superb lunch and several glasses of Mudbrick's finest, Waiheke Island seems to me an all's-well-with-the-world sort of place, a paradise on the city's doorstep.
IF YOU GO
Getting there: Fullers operates ferries to Waiheke Island from downtown Auckland's ferry terminal, runs island tours and sells all-day bus passes (a practical way to see the island).
Staying there: Most visitors make day trips from Auckland which is well-supplied with accommodation in all price categories and of all types, ranging from campsites to luxury B&Bs. Options encompass the opulent Langham and centrally-located budget-category Base Backpackers. Accommodation is also available on Waiheke Island - mostly B&Bs and apartment-style, in some cases beachfront or amid vineyards.
- AAP