Winston Aldworth overnights at a classic central city hotel.
Getting there?
It's a five-minute walk from my desk at the Herald. We were there for a midweek citybreak, taking the chance to see the highly anticipated Nick Cave film
20,000 Days on Earth
in the New Zealand Film Festival. Great flick.
Why would you stay here? For Aucklanders, this hotel is a citybreak classic, based in the old Farmers building, an institution that is - as befits the name - part of the city's heritage. The Heritage is often involved in bringing artists of the opera and ballet variety to town and is a partner with the NZFF.
Check-in experience? Speedy and painless. I picked up a copy of the Christchurch Press and wandered upstairs. My better half arrived later and made use of valet parking.
Room? We were in 740. There's a very high ceiling stud and polished wooden floors, which gives the room more character and a greater sense of space than your average souless hotel room. It's a good size, with a floor-to-ceiling sliding door dividing the sleeping area from the lounge and kitchenette, where there's a stove-top. I suspect that's for the long-stay commercial market.
Price? I'd won a night at the Heritage in a draw at a work function (completing a stunning hat-trick of work-function draws for me. Also in the bag: a Braun shaver and a trip to Sydney to eat at a Matt Moran restaurant. Don't be a hater). There's a special going on for the film festival. You can get a double room for $189 a night, and there's an early evening, pre-film three-course dinner special for $39 per person in Hectors restaurant.
What's in the neighbourhood? We walked to The Civic in about nine minutes. You'd be at Britomart for food and drink in less. After the movie, we had dinner at Mamak - cheap, delicious Malaysian. Want to keep it really local? Go for cocktails at Moe's on the corner of Federal and Wolfe.
Photos: Heritage Auckland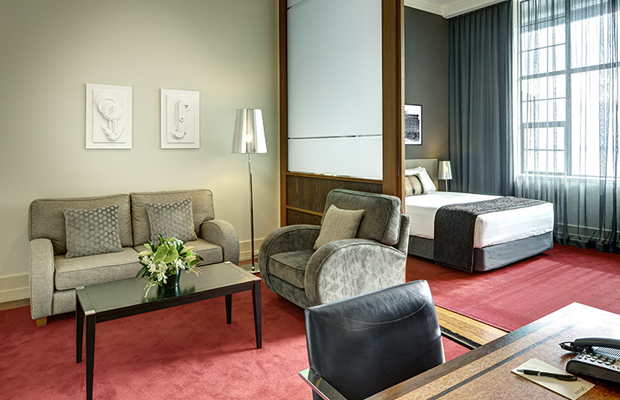 Toiletries? Manuka Spa. Seemed pretty standard.
Food and drink? We had breakfast at the hotel's restaurant, Hectors. They've gone for a resort feeling with palm trees in a courtyard atrium, with the hotel's towers rising high around it. It's a pretty cool effect.
The bed? A comfortable king.
A room with a view? Ours had views of the harbour
Bathroom? We hit the good-sized tub for a post-movie soak.
Noise? We kept the big curtains open to let the city lights shine in (excuse us, we live in the 'burbs). With them drawn open, there was a little motoring noise from Wyndham St below. The quietest rooms would be in the newly developed Tower side. But then you'd miss the heritage part of the Heritage.
Exercise facilities? They've recently refitted the outdoor swimming pool. There's also an indoor lap pool, a gym and a floodlit tennis court.
Would I return? Certainly.
Heritage Auckland is at 35 Hobson Street, Auckland Central. Phone: (09) 302 1277.