Anne Gibson takes in the luxurious accommodation and dramatic surroundings at a Palliser Bay lodge that's hosted royalty.
Check-in experience?
Met in a relaxed, cordial manner by manager Richard Rooney, asked if we wanted afternoon tea, luggage swept off to the room, then invited to explore the estate.
Room? An entire cottage actually. I stayed in a Stormwatch Cottage. The Wetlands Cottages are on the other side of the lodge. Had lounge/dining/sleeping combined, then a separate dressing room, kitchen and double bathroom. Stormwatch Cottages face Palliser Bay. Edwardian-style with a Jetmaster open gas fireplace.
Price? Summer: $1600 a night per couple plus GST; winter: $800 a night per couple plus GST.
Who owns it? American billionaire William P Foley II and his wife Carol.
What's so good about this place? The astonishingly wild setting, combined with luxury of the suites and lodge.
And the bad? The astonishingly wild setting, combined with the extreme luxury of the suites and the lodge, which are very hard to leave.
What's in the neighbourhood? The lodge sits on a 2200ha farm, surrounded by Martinborough's vineyards, the dramatic rugged Palliser Bay, seals on the rocks around the coast and the Cape Palliser Lighthouse. There are many activities at the lodge, including farm tours, horse riding, ATV rides, clay target shooting and spa treatments.
Claim to fame? It's where the royal family stayed when they visited this year - plus so many more celebrities. But I'm sworn to secrecy.
Photos: Wharekauhau Country Estate, Wairarapa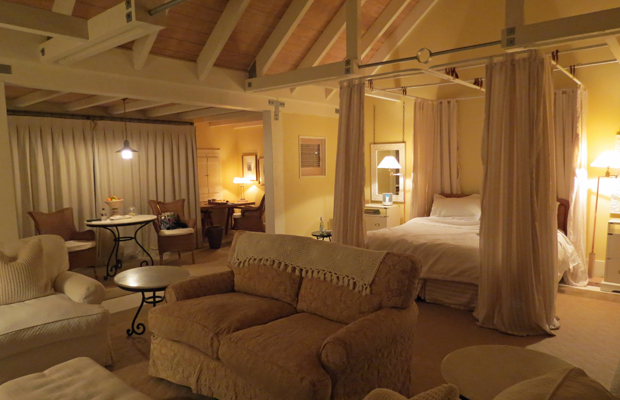 One of the estate's luxurious rooms. Photo / Mark Mitchell
Toiletries? Nellie Tier, a small Auckland-based family business producing high-end products.
The bed? Four-poster California super-king, super comfy.
The grounds? Rough and dramatic countryside surrounds the manicured well-trimmed orchard and courtyard - the best of both worlds.
The bathroom? Clad in highly polished marble, light colours, bifold windows over the bay, his-and-hers vanities, three-sided mirrors. Lantern-style lighting, old meets new.
Noise? The crashing waves in the wild Cape Palliser.
Exercise facilities? A separate pool and exercise building stands alongside the lawn tennis court.
The lobby? Breathtaking, double-height, main entranceway into the lodge, high-stud roof with staircase up to the startling red Palliser Room.
Food and drink? Executive chef Marc Soper prepares the menu with produce drawn mainly from the property or region.
Perfect for ... Weddings, anniversaries, family stays, weekends, special occasions - or just if you want to disconnect and have time out.
Would I return? Tomorrow, or yesterday.
Wharekauhau Country Estate is on Western Lake Rd, Palliser Bay. Phone (06) 307 7581 or email: reservations@wharekauhau.co.nz.