The Kalashnikov-wielding gunman who shot dead a policeman and seriously injured two other officers on the Champs Elysees in central Paris - just three days before the French presidential election - has been named.
The alleged Isis gunman was identified as 39-year-old father Karim Cheurfi - who had been jailed for 20 years for trying to kill officers in 2001.
He had parked his Audi and opened fire after police stopped at a red light on the world-famous avenue, reports the Daily Mail.
A foreign female tourist was also wounded in the incident, which is being treated as a terrorist attack.
Dramatic footage captured the moment French police chased and shot at the gunman, who later died.
Police have now launched a desperate manhunt for a second suspect after heavily armed officers flooded the area in the heart of the French capital.
Officers have been searching the home of the alleged shooter - who was known to security services and had been flagged as an "extremist" - in east Paris and he had previously said that he "wanted to kill police".
A French government spokesman said the gunman began firing against police using "a weapon of war".
The fatal incident unfolded as presidential candidates, including National Front party leader Marine Le Pen, debated on a TV show nearby before Sunday's election.
Karim Cheurfi used the alias "Abu Yousuf the Belgian", and reportedly made threats to kill police using the social media app Telegram, an instant messaging service.
Karim was born in France and lived in Chelles, a commuter town close to Paris and was jailed for 20 years for shooting at police in 2001, after being caught in a stolen car. But it is believed that he was released early in 2016.
The gunman has been identified by police but they will not officially reveal his name until investigators determine whether he had accomplices, according to the Paris prosecutor.
Francois Molins said: "The identity of the attacker is known and has been checked. I will not give it because investigations with raids are ongoing.
"The investigators want to be sure whether he had or did not have accomplices."
The Interior Ministry spokesman said the officers were deliberately targeted and the police union added that the policeman was killed while sat in a car at a red light.
US President Donald Trump said: "It looks like another terrorist attack. What can you say? It never ends."
Isis claimed responsibility for the attack and dramatic video footage showed the immediate aftermath of the incident which left one policeman dead.
In the video, posted on Twitter, several figures can be seen moving around next to a police van on the Champs Elysees.
One of the figures then appeared to fall to the ground and a silver car - believed to have been used by the suspects - can be seen parked next to the van.
Police have issued an arrest warrant for a second suspect - a man understood to have arrived in France by train from Belgium.
French President Francois Hollande said the attack was "terrorist related" and scheduled an emergency meeting following the shootings on Thursday evening. French prosecutors have opened a terrorism investigation.
Hollande said a national tribute will be paid to the policeman and added that a 'passerby was hit' before the 'assailant was neutralised'.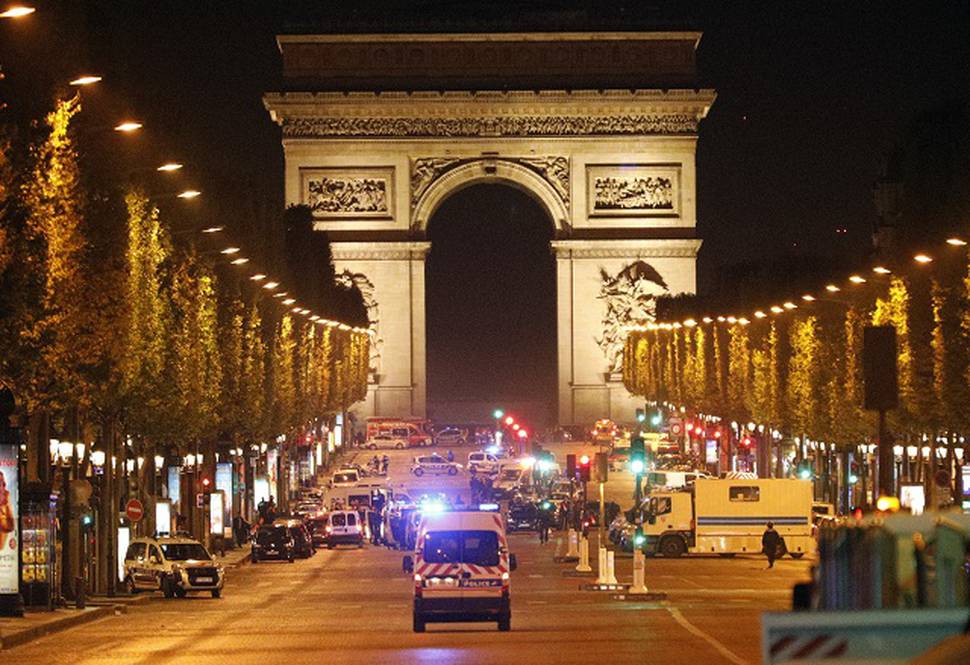 The 39-year-old, named in reports as Karim C, and using the alias "Abu Yousuf the Belgian" made dark threats on messaging app Telegram, it has been claimed.
He was convicted for a 2001 shooting which left two police officers seriously injured, according to reports, and was given a 20 year jail term.
French authorities have confirmed that the shooting close to the Champs Elysees was a 'targeted' attack, and prosecutors have opened a terrorism probe.
Isis has claimed responsibility for the attack, which was carried out with a Kalashnikov weapon. A passerby was also injured.

The gunman was shot dead at the scene.
The gunman has been named in Le Parisien as Karim C.
The French-born killer lived in Chelles, a commuter town close to Paris in the Seine-et-Marne department.
In 2003 he was sentenced to 20 years inside a high security prison following the attacks in Roissy-en-Brie, also in Seine-et-Marne.
But he was let out early following an appeal ruling, giving him the freedom to carry out tonight's attack.
Karim C was the registered keeper of the grey Audi used in tonight's attack. A raid on his home later found guns and ammunition, said intelligence sources.
He had targeted a parked patrol car full of traffic control officers working to the Paris prefecture.
The officer killed was at the wheel and was having an evening snack at the time of his death.
French television network BFMTV reports that he had used the Telegram internet messaging service, which extremists have previously been claimed to favour because of its encryption.
French Conservative contender Francois Fillon, who has campaigned against "Islamic totalitarianism", said on France 2 television that he was cancelling his planned campaign stops today.
Far-right candidate Marine Le Pen, who campaigns against immigration and Islamic fundamentalism, took to Twitter to offer her sympathy for law enforcement officers "once again targeted". She canceled a minor campaign stop, but scheduled another.
Centrist candidate Emmanuel Macron offered his thoughts to the family of the dead officer.
Socialist Benoit Hamon tweeted his "full support" to police against terrorism.
Pierre-Henry Brandet, spokesman for France's Interior Ministry, confirmed that one police officer was dead and two were seriously wounded following the "targeted attack".
He said a "car pulled up just after 9pm" next to a police patrol car which was parked up on the busy avenue.
A man jumped out with a Kalashnikov and started firing indiscriminately into the police vehicle and hit the unidentified officer who died.
The assailant then ran off, pursued by other officers. Two of them were wounded as they killed him.
Brandet said "all lines of investigation were being pursued", while intelligence sources said the dead assailant was a known radical on a so-called S-file, for "State-security".
This means he would have been under surveillance, because he was a known risk to the country.
An eyewitness, called Chelloug, said: "It was a terrorist. He came out with a Kalashnikov and started shooting, but he could've shot us on the pavement and killed more people with a spray of shots - but he targeted the policemen and fortunately there were the policemen who killed him."
Another witness said: "I saw someone shoot at the police officers. They returned fire, they killed him, he fell on the floor. And then the emergency services came.
"It took place by Zara and there was a CRS (Republican Security Companies) van parked up and the man shot the police officers. He took out a weapon and shot them.
"I think the police officer was killed on the spot and his colleagues fired back and killed the individual."