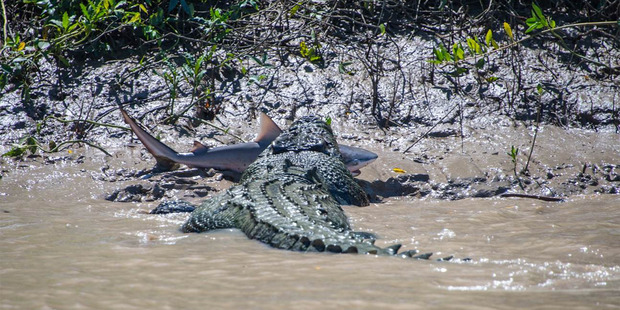 Even river kings have a hankering for shark meat - and Brutus made sure he dealt to his.
The 5.5m crocodile, well-known for his feeding displays and missing front leg, calls Northern Territory's Adelaide River home.
His latest stunt for tourists - an attack on a baby bull shark - has hit headlines around the world.
It is believed the killer crocodile, aged more than 80-years-old, lost his front leg in a shark attack.
A boat of about 25 passengers on cruise watched in awe as Brutus dealt to his prey on Monday.
Sydney father Andrew Paice was on the boat with his wife and daughter.
"We'd fed Brutus on the bank earlier and were coming back past and we saw something in his mouth," he told NT News.
"The shark was still alive. Brutus took the shark back into the water and then started to shake it around a bit.
"He then went back into the mangroves like he was protecting his prey."
- APNZ