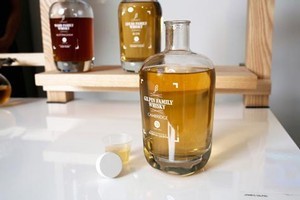 If the one thing that's discouraging you from becoming a bona-fide cyclist is the lack of storage space on a bike, then the Mopion - a new design developed by Puma - will tick all your boxes.
Here's someone who really took the reuse part of reduce, reuse, recycle to heart and saw an opportunity to turn waste into... whisky. The secret ingredient of the Gilpin Family Whisky is (or at least was originally) his grandmother's diabetic urine. Disclaimer: don't follow this link if you're eating.
If you thought the previous example of giving a second life to a wasted substance was unappetising, then this one might tip you over the edge. There has been a recent trend in China towards buying organic products after a scandal revealed a nauseatingly high amount of food is cooked in oil recycled from sewers!
A more appealing take on the three Rs is a campaign being organised in the US to hold a "give your stuff away" day. Essentially, it would be like our inorganics collection but with quality products that are no longer loved. Perhaps a similar day is around the corner in New Zealand? Or alternatively, there is the Freecycle movement which has members in Auckland.
Finally, if your subconscious has unwittingly absorbed a mind-numbingly catchy pop tune and you want it OUT - why not replace it with another mind-numbingly catchy song? Hopefully you'll find a song you actually like at Unhearit.com! Some of them are slightly synth-heavy covers, but it does the trick.