Heather Tyler finds a small town making the most of some fabulous vineyards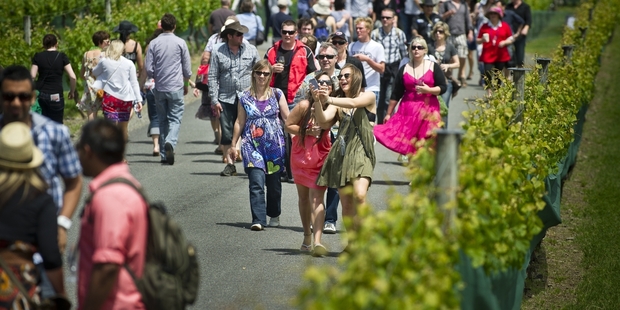 It took six months to sell 5000 tickets to the first Toast Martinborough wine and food festival in 1992. Organisers must have wondered what on earth they were letting themselves in for. Twenty-one years later it takes five minutes to sell 10,000 tickets to the festival.
Martinborough, a quirky small town displaying fine examples of colonial architecture, is in South Wairarapa, one range of hills over to the east from Wellington.
In 1880 the town's founder, John Martin, had an unusual vision, and laid out the streets in the shape of a Union Jack flag with a central town square.
He named the streets after grand places he had visited: Broadway, Dublin, Venice, Strasbourg, Texas, Naples, Suez and New York. Unlike those places, there's so little traffic in this community of 1300 souls that you could fire a canon down these streets and not hit a thing.
However, it's become a premier wine-growing region with upmarket eateries, attracting tourists as well as Wellingtonians seeking a weekend away. Once a year, usually on a sunny Sunday in mid-November, the sleepy town goes ballistic. The square becomes the scene of wine-barrel-rolling races, live music and wine stalls and there's a peak-hour traffic flow of buses ferrying thousands of festivalgoers to the circuit of 11 vineyards set up with wine and food tents and live music.
Many people dress up for the day and everyone wears the most important accessory of all - a wine glass lanyard, which is their ticket into the festival.
Martinborough produces award-winning cool climate wines, of which 70 per cent are exported.
Though sunny, the region is prey to southerly gales roaring up from the Antarctic, which means output is more on a boutique scale.
Palliser Estate owner Richard Riddiford, one of the founders of Toast, says occasionally the festival is hit with hail, gale-force wind and frigid temperatures. "But people just toughen up and get on with it."
Palliser Estate was part of the first wave of wineries to become established, first planting in 1984 and concentrating initially on pinot noir, chardonnay, riesling and sauvignon blanc and, more recently, pinot gris.
The food queen of Toast is chef, caterer, teacher and food writer Ruth Pretty, who runs her own food empire from the rural area of Te Horo, back over the hills. Pretty's signature dishes, served at Ata Rangi Estate, include: whitebait fritters, asparagus with hollandaise sauce; lamb, sage and olive pie served with Ruth's own chutney, and a white chocolate and black currant creme brulee served with big, fat strawberries from her garden. Accompanied by Ata Rangi pinot noir, of course.
Toast is a frantic day for Pretty, with 30,000 portions of food needed. But she and husband Paul, on their feet for 12 hours straight, barely seem to work up a sweat.
"After 20 years, we're used to it," she says. "We relish this day."
Ata Rangi is owned by Clive Paton, who bought a barren 5ha paddock on the edge of Martinborough in 1980, which now includes celebre, a sought-after blend of merlot, shiraz, cabernet sauvignon and cabernet franc. United States wine guru Robert Parker gave Ata Rangi the top Outstanding: 5 Stars rating in his 7th Edition of the Wine Buyers Guide.
Paton's passion extends to native forest conservation and he produces a special pinot noir to raise funds.
With 10,000 people guzzling about 7500 litres of wine at the festival there's bound to be a bit of argy-bargy. Alcohol restrictions and toned-down live music content were among changes brought in at last year's event.
Toast general manager Rachel Fletcher says unflattering headlines aren't a true reflection of the festival.
However, ticketholders can no longer buy bottles of wine from Martinborough Square. Bags will be searched for alcohol at every festival gate.
Toast is also reviewing the music content. "The music should be more of an accompaniment than a key attraction," Fletcher says.
I hope they don't tone it down too much. The live acts at all estates are first class, and by the time many people descend on Palliser they still have energy to dance the late afternoon away before there's a disorderly rush for the buses which return to the square.
Accommodation around Martinborough is sold out months in advance. The area is well endowed, from casual B&Bs to five-star hotels.
I was lucky enough to stay at The Old Manse, a Martinborough homestay run by genial hosts Sandra and John Hargrave, who can spin a good yarn or two by the fire.
Room prices at the Old Manse range from $160-$200 a night, and include a cooked breakfast that includes made from strictly local produce. John whips up a mean scrambled egg with field-picked mushrooms. The large colonial homestead has sweeping lawns, a rose garden and vineyard views.
The other guests were also Toast fans and we swapped festival gossip over breakfast. It had been a big day and there was a lot to tell.


MARTINBOROUGH CHECKLIST
GETTING THERE: Martinborough is a 65km drive from Wellington.

DETAILS: Toast Martinborough will be held on Sunday, November 17.
ACCOMMODATION: The Old Manse B&B.
The writer was a guest of Positively Wellington Tourism and Air New Zealand.
- AAP