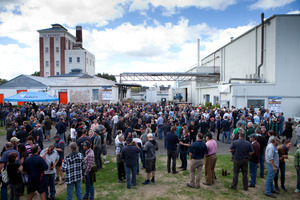 I was fascinated by the concept of the "Ladies Drought Shout" held this month, and even more amazed that the monumental irony appeared to be lost on the organisers.
The main event, the actual Drought Shout, took place in April at Tui Brewery in Mangatainoka.
The event had a dual purpose: a fundraiser for drought relief, but also a sponsored let-your-hair-down day for around 2000 farmers, which included mechanical bull-riding competitions, top-dressing displays, barbecues and lots of free Tui beer.
There was money left over from the Drought Shout, so it was decided to show the ladies some appreciation with a women's event this month.
Now, follow me through on this one.
The Drought Shout, pretty much designed by blokes and for blokes, was a colossal outdoor party at a brewery.
The Ladies Drought Shout, again almost certainly thought up by blokes, was a sit-down cooking lesson under the tutelage of celebrity chef Ruth Pretty.
I would have thought, if the women were going to get something on a par with Mangatainoka's Drought Shout, a male strip revue could have been a start.
And yet, the Ladies Drought Shout sold out. At the Carterton Event Centre, 300 women listened attentively as Ruth Pretty (who dryly pointed out that the men got a party, and the women get taught how to host a party) gave instructions on creating venison burgers and potato top pies.
Trying to get a sane interview was difficult when the irony was so thick.
No-one in the audience was going to revert to 1950s speak and say how much they appreciated a night especially for the ladies.
But I suspect the women were more amused than insulted. Perhaps the event sold out because they were happy for the opportunity to be out with several hundred others and enjoy an evening. They were not farmer's wives; they were farmers. A night out is a night out, and for farmers, that probably doesn't happen often enough.
For more articles from this region, go to Wairarapa Times-Age