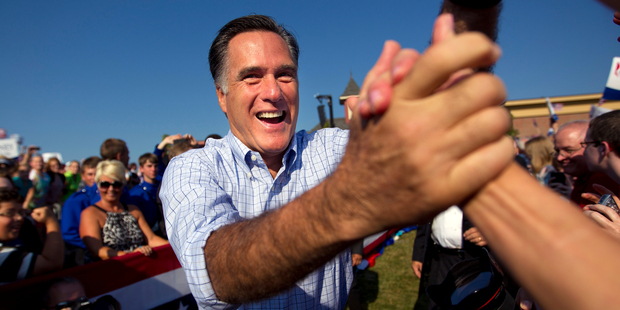 This week's Republican convention will force its self-effacing candidate to bare at least part of his soul.
He's a guarded man who dislikes talking about himself. He prefers to let the facts speak for themselves, not least through those PowerPoint presentations he's so fond of.
For all his wealth, he's a thrifty fellow too. As we learned from an interview with the Wall Street Journal last week, he washes his Brooks Brothers non-iron shirts in his hotel room while on the campaign trail. And indubitably, the handsome and eternally preppy Mitt Romney is a Brooks Brothers kind of guy. But this week, there will be no place for diffidence.
The Republican convention in Tampa will formally anoint him as the party's challenger to Barack Obama in November. And if he is to win the White House, he will have to begin talking about himself.
Republican officials yesterday abruptly announced plans to scrap the first day of their national convention tomorrow, bowing to a threat posed by Tropical Storm Isaac, churning toward Florida.
The day's events will be postponed until Wednesday, including Romney's formal nomination, but the balance of the four days of political pageantry and speechmaking would go on as scheduled.
This ought to be Romney's moment. He is a proven manager, just the sort of practised hand on the tiller of the storm-tossed national economy that the country yearns for. But despite a modest improvement since his choice of the dynamic Paul Ryan as running-mate, he still trails the President by a point or two in national polls and - more important - by a wider margin in most of the swing states that will decide the outcome in November.
This weekend Intrade, the online betting site that has called the last two US elections almost exactly, gives the President a 57 per cent chance of re-election, against a 42 per cent chance for his opponent.
Romney has not had a good summer. He has never been much of a candidate. Stilted and awkward, he finds it hard to connect with voters, and often hits the wrong note despite one of the most tightly scripted campaigns imaginable. And he hasn't improved much since wrapping up the nomination in April.
There was the clunky, gaffe-strewn trip to Britain, Israel and Poland. More damaging was the curious listlessness that allowed the Obama camp to define Romney as the callous and greedy corporate vulture from Bain Capital, whose main goal is to ensure he and his rich chums pay as little tax as possible.
Some problems can't be laid at the candidate's door: for instance, the row over the asinine remarks on rape by the Republican senatorial candidate Todd Akin that obliterated Romney's efforts to focus on the economy and spotlighted the unruly social conservative wing of the party.
As Republicans convene in the Tampa Bay Times Forum, the President will be touring three other battleground states - Iowa, Colorado and Virginia - while Michelle Obama makes a heavily advertised appearance on the top-rated David Letterman Show. Gone are the days when the parties tacitly agreed not to steal each other's convention thunder, as in 1988 when then Vice-President George Bush snr went fishing in Wyoming during the Democrats' do in Atlanta.
But despite the competition, Tampa offers Romney his best chance of making amends for his summer shortcomings. The audience could not be friendlier. Minutely choreographed, US conventions make other countries' party conferences look like impromptu street brawls.
A convention is a quadrennial jamboree, part four-day "infomercial", part coronation - one that marks the start of the sole period in the four-year presidential cycle, between convention and election, when the American party out of power has a formally designated leader in its presidential nominee.
The trick is to keep disruptive views and controversial characters out of sight and, hopefully, out of mind.
Ex-president George W. Bush, toxic emblem of the last Republican Administration, is not attending (although brother Jeb, Florida's former Governor and still very popular in both state and party, is).
Ron Paul, the cussed 77-year-old libertarian who challenged Romney in the primaries, will not speak or have his name put in nomination. The hope is that a fulsome video tribute will placate Paul's fanatical supporters. Sarah Palin has not been invited. Newt Gingrich, another former candidate and loosest cannon of them all, has been kicked into the long grass of convention-fringe workshops.
But Christian conservative Rick Santorum, Romney's most troublesome opponent in the primaries, will have a major speaking slot - a sign, like the choice of Ryan, of how the candidate is trying to allay the doubts of the social right.
Some kind of appearance is also promised for Donald Trump, in-house Republican carnival barker.
These, however, are sideshows. A brighter spotlight will be on the party's rising stars: a trio of governors, Bobby Jindal of Louisiana, Nikki Haley from South Carolina, and New Jersey's pugnacious, crowd-pleasing Chris Christie, who will deliver the keynote address, as well as and Florida's own pin-up-boy senator, Marco Rubio.
If Romney loses in November, all four will automatically be in the frame for 2016. But the brightest spotlight of all, of course, will be on Romney. himself.
A carefully selected part, at least, of Romney's soul will be bared. Family and friends will tell not of Mitt the business automaton but of Mitt the human being. The most important "humaniser" will be Ann Romney, a far more engaging and effective campaigner than her husband.
The big moment will be Romney's acceptance speech. He's no great orator, but oddly, for once he does not need to be.
Acceptance speeches rarely hit the heights: who remembers the words of Obama, the supreme orator, at Denver football stadium in 2008? This moreover is a downbeat, often downright nasty election campaign, a "lesser-of-two-evils" choice between a president who has lost the mystical aura of four years ago and an opponent who singularly fails to enthuse.
Romney is calculating that this time, voters are less interested in sparkle than in competence. They want a practical guy, he believes, a problem-solver who can make things work.
"I know what it takes to turn around difficult situations," Romney told the Journal. Or, as he put it before: "It's nice to be loved, but it's better to be respected."
- Independent, AP