Winston Aldworth hops on a bike to chase the hops.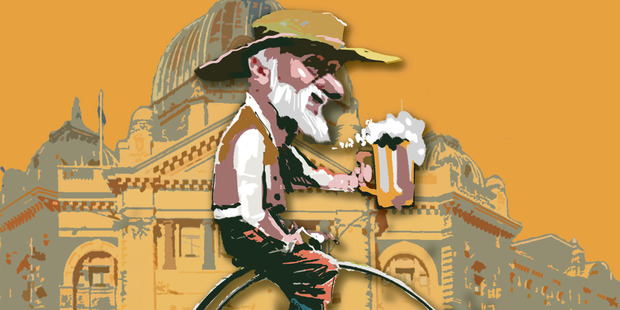 Disclaimer: For goodness' sake, don't go thinking the words that follow are a ringing endorsement of getting boozed and crashing your bicycle.
In Melbourne, if you're in search of good craft beer, pedal-power is the way to go.
With its dedicated cycle paths and flat topography, Melbourne, makes for pleasant riding. And, with more than half a dozen good craft beer spots in close proximity around the central city, it makes for pleasant drinking, too.
Be warned, good beer is not cheap in Oz. And take a moment to figure out the the different measures. In New Zealand we've mostly settled (happily, I believe) into a culture of pint measures, in Oz they still speak the language of ponies and schooners. When you're sampling a few, ordering by the "pot" seems sensible.
I started out from Federation Square in the centre of town with a set of wheels from Rentabike.
They're cheap, friendly and located just around the corner from the first brew stop on my tour.
Beer DeLuxe
Federation Square
Their claim to have Melbourne's finest craft beer list might just stack up.
Beer DeLuxe is a terrific place from which to start a craft beer tour - if anything, it's a little difficult to leave. Witness their formidable Beer Bible.
The Local Taphouse
184 Carlisle Street
The most-distant leg of the journey, but worth the effort. The Local runs 20 taps and gets fine reviews for its food. At $17.50, the sample paddle is a good place to start.
Baden Powell Hotel
61-65 Victoria Parade
This place still has the aesthetic of a classic Aussie boozer, so be prepared for sporting memorablia and - as the name suggests - some scouting stuff too.
Little Creatures
222 Brunswick Street
The pale ale from this mob is one of the earlier Aussie craft beers to have made a decent splash over here. Personally, I've always thought it could do with a boost in the hop count.
But their dining room in Brunswick is fantastic - a lesson to our brewers on how to present their shop face. I was hungry when I arrived here and it's a great place to eat. Though not cheap.
Best of their beers is the Bright Ale - recommended for the busy biker.
Ponyfish Island
Southgate Footbridge
The range of beers is thin, but Ponyfish Island's pop-up bar has a superb location, clipped on to an upright of a pedestrian bridge over the Yarra.
One of the bar staff told me more craft beers will soon be on the list. Regardless, my taste buds have had their workout by now and it's hard to resist parking the bike and guzzling something light at this spot to round out a satisfying journey.
GLASS SIZES
Pony: 140ml
Small Glass: 170ml
Glass: 200ml
Pot (or midi): 285ml
Schooner: 425ml
Pint: 568ml
Winston Aldworth travelled as a guest of Tourism Victoria and Qantas.