Considering a shopping excursion to Paris? It's a good idea to plan ahead.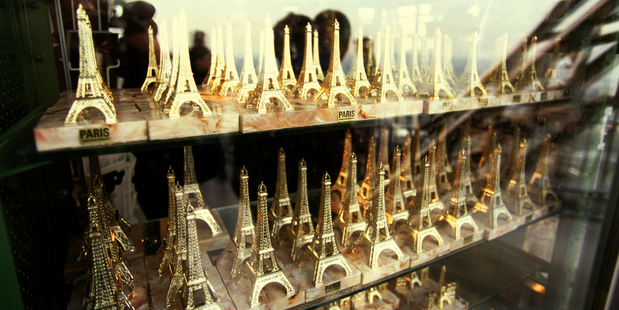 Browsing the shops along the Avenue des Champs-Elysees, or one of the city's exquisite department stores, or even an outlying arrondissement (district) dotted with charming boutiques, requires attention to detail.
For starters, Parisian retail guides suggest that travellers look and act the part. Blend in and make an effort to speak the language. If nothing else, learn to greet shopkeepers as you enter and exit their boutiques, says Jennifer Balmadier, an expatriate from Boston who works part-time as a shopping guide.
One bonus for good manners is getting good advice from the sales staff. Generally, Balmadier says, sales clerks in Paris are frank about fashion - something natives take very seriously. They will tell you if you can't pull off an outfit, even if it costs them a sale.
"Parisian style is an attitude, a state of mind,'' author and fashion icon Ines de la Fressange says in her style guide, Parisian Chic. Parisian shoppers don't worship fashion idols, she writes; they create their own styles.
Her list of tips on how to dress like a Parisian includes dressing comfortably instead of worrying whether a skirt is too short or too long, avoiding overly coordinated wardrobes and staying away from too much bling, or trendy seasonal styles.
Balmadier's boss, Parisian personal shopper Rebecca Perry Magniant, author of Chic Shopping Paris and owner of a guide business that has the same name, says Paris fashionistas depend on a few wardrobe must-haves: slim trousers or great-fitting jeans, a cashmere sweater and a classic trench coat.
De la Fressange's list of basics adds a man's blazer, a tank top and a little black dress.
"The French tend to go for quality basics and then add trendy items each season,'' Magniant says. "You can add cheap and chic trendy pieces, like this season's brights and pastels, pick up a new pair of pants in a bright hue to go with your basics, and you are good to go.
"What to wear on your feet? Don't wear Nikes! Opt for the French look by wearing classic Converse tennis shoes or oh-so-chic Repetto ballet flats.''
Magniant is in the business of helping shoppers find those fundamentals as well as distinctive accessories.
She also offers tips on locations and cautions travellers to be aware of store hours. Some, for example, close for lunch during the week.
"Much of Paris is closed on Sundays, but there are a few areas open, starting at about noon: The Marais district is now filled with funky boutiques of all sorts, and there is a nice minimall under the Louvre: Le Carrousel du Louvre with chain stores and a few local ones. I love its perfume shop, Fragonard.''
The city's distinctive department stores include Galeries Lafayette and Printemps Haussmann; both rival New York's flagship Saks Fifth Avenue and Bloomingdale's. Some offer daily discount cards for international customers, available at customer-service desks. Most have specialty foods and chocolatiers as well.
At Le Bon March, on the Left Bank, "Everything has been carefully chosen by some of the finest buyers in Paris,'' de la Fressange says.
Magniant offers individual or group shopping tours including the "Made in France Tour'', "The Unique Boutique Tour'' and the "Arts and Antiques Tour''. Most start at €100 euros (NZ$159) per person for a four-to five-hour session.
Flea markets, known for their antique wares, are another option. But Magniant cautions, they are "a bit out of the way, easy to get lost in and hard to 'bargain' if you don't have any French skills - so not the best choice without a guide''.
No need for a companion to the Parisian chocolate shops: The city is immersed in them.
- AAP