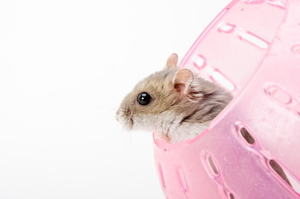 H PLATES: The days of hauling mightily on a steering wheel to turn a heavy vehicle are long gone, but Volvo wanted to demonstrate just how light a touch is needed on their new 15 ton truck. They locked a circular hamster cage on to the steering wheel, added a hamster and drove the vehicle to the top of a steep quarry. There was a human driver too: he held a carrot to tempt the hamster to run the right way round the wheel. If learners need L plates do hamsters need H plates?
A SPOONFUL OF DIESEL: Researchers at ETH Zürich are working on a natural gas-diesel hybrid vehicle engine that emits less than half the CO2 of a standard engine while maintaining performance. Rather than using a spark plug, the engine injects a small amount of diesel directly into the cylinder. A sensor in the cylinder allows a control system to calculate the amount and timing for the diesel injection.
The next step is to find a vehicle manufacturer to create a prototype. Hmm, fill up twice at the petrol station.
KIWI GREEN: The Tindo solar electric bus runs in Adelaide, Australia, saving more than 14,000 litres of diesel and more than 70,000 Kg of CO2-e in its first year. It doesn't have solar panels on its roof though. Instead the solar panels are on the bus station, and regenerative braking adds to the energy savings. The air-conditioned bus has room for 40 passengers and can travel about 200 kilometres between recharges under typical urban conditions. Oh, and the bus was made by a New Zealand company. We should be seeing these all over our cities too.
TUNED FORK: People with arthritis may have problems holding a fork, which makes eating a problem too. The large EasyFork handle is carefully tailored to fit the hand, resting on the connection between thumb and forefinger. That means it doesn't need a firm or even loose grip to hold it. Meanwhile the tines are angled to allow users to keep their hand more or less upright — the easiest position to hold the hand in. Knife and spoon should be the next challenges.
FRESH AIR FRY UP: Like the idea of cooking your food directly with the sun? The GoSun Stove cooks a meal in as little as 20 minutes. Temperatures reach up to 288 C, and the stove can keep food warm for hours by working like a thermos. An evacuated glass tube rests at the focal point of a parabolic reflector made from anodised aluminium. The food is placed on a tray that fits inside the tube and can be fried, baked or boiled. The stove is easily portable, folding up so the legs form a handle. That's very nifty for a picnic or bach.
Miraz Jordan, knowit.co.nz