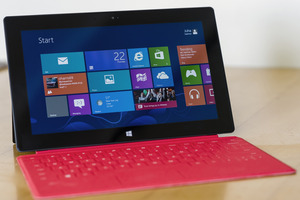 Microsoft's answer to Apple's hugely popular iPad, the Surface RT tablet is starting to trickle into New Zealand through people importing the device themselves and you might be wondering what they're like.
The answer is: not bad at all. I was lent a 32GB Surface RT for a few days last week, with two keyboard covers, the shallow Touch one that doesn't have real keys, and the Type one that does.
Microsoft made sure the Surface RT would be well-built, and it does feel like a quality device. It makes for a nice, lightweight travelling device to use instead of a laptop.
This is not an iPad copy
Having the kickstand and detachable full-size keyboard covers makes all the difference when you need to be productive; I was able to type at decent speeds on both the Touch and Type keyboards within a short period of time.
Better yet, battery life is very good with the Surface RT easily lasting a day between charges.
There's a standard USB 2.0 port which means you can hook up all sorts of devices to the Surface RT, provided of course there is device driver software available for them. A micro-SD memory card slotis also available, handy because of the 32GB total storage, only 24GB is available to user data and apps.
The Surface has a trick up its sleeve that no iPad can do: you can have multiple users on it, just like on any Windows PC.
That and the ability to fence off a part of the Surface and Windows 8 for your children so they can't go and buy apps for instance is a great feature.
Another unique draw-card is the bundled Office 2013 Home and Student productivity suite with Word, PowerPoint, Excel and OneNote, at least until Microsoft comes out with a version for Apple i-devices.
Overall, the Surface RT performs well. Some of the games you get for Windows 8 like Pinball overwhelm the Surface RT, but just about everything else including the bundled version of Office, web browsing (yes, Adobe Flash is supported) work just fine.
A few misses
For a product show-casing Microsoft's technical nous, the Surface RT has some very average cameras front and back. They work, but the image quality is nothing to write home about.
Also, while the Surface RT screen is not bad as such, it's also fairly low resolution compared to the Retina ones found in iPads.
Not having a full version of Office with Outlook for email is and macro support for Excel will be a show-stopper for some users. What's more, apparently you have to buy a separate license for Office if you intend to use it for business purposes.
There is no 3G cellular broadband, only Wi-Fi, for the Surface RT. This is easily worked around by using your smartphone as a Wi-Fi hotspot for a data connection but 3G connectivity is a feature that some (wealthier) users like to have.
Crippled Desktop
The major bug-bear is the Desktop mode in Windows 8 RT. This will irritate users who can't install alternative browsers because under the bonnet, RT uses not an Intel processor but an ARM-designed one made by graphics device company Nvidia.
Due to the ARM processor, Windows RT is unable to run normal Windows applications on the Desktop, which seems to be there just for Office. The logical next step for Microsoft would be to dump Desktop mode in Windows 8 RT completely, but right now, it was probably too difficult to do.
There are plenty of programs for the Windows 8 side of Surface RT though, in the App Store, but it's odd to have a Windows computer that doesn't run much Windows software so to speak.
Next year, Microsoft promises to release the fully-featured (and no doubt, more expensive) Surface Pro tablet. This runs an Intel-based version of Windows 8 without the limitations of the RT variant.
Flaws apart, the Surface RT is a strong first tablet offering that's good enough to warrant some growling at Microsoft's local office for not making it available for NZ customers and developers who now have to import the devices themselves.