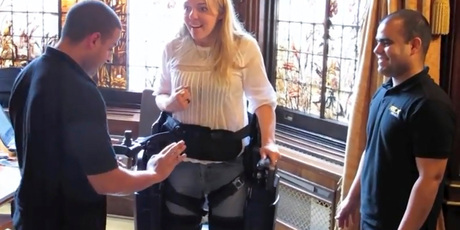 A Kiwi invention that allows wheelchair-users to walk has given an aspiring TV presenter a new lease on life.
The robotic exoskeleton called Rex was hailed as a miracle cure for helping paralysed patients walk on a documentary that aired in the UK last week.
TV presenter Sophie Morgan, who covered the Paralympics for Channel 4 appeared in a news story for the channel as she tried the world's first hands-free robotic legs for the first time.
In a London hotel room with family and friends watching on, the 27-year-old took her first steps since the car accident nine years ago which resulted in a broken back and loss of the use of her lower limbs.
"It was a bizarre feeling," she told the Daily Mail newspaper after the show.
"I'm 5ft 10in and the floor looked so far away. I felt safe but it was all an emotional blur.
"Afterwards I couldn't believe that I had been walking around, and wanted to do it all over again."
Auckland engineer Richard Little came up with the device and founded high-tech firm Rex Bionics in 2003 when his friend Robert Irving was diagnosed with multiple sclerosis.
The NZ$150,000 legs enable users to use a joy-stick to stand, walk, scale stairs and navigate slopes.
Morgan, a former model, was amazed how the technology had changed her view on life.
She was filmed at her Brighton home and walking along her local beach.
"This was where the reality of the experience hit me, as I saw my world from a different perspective and lived out some of my day-to-day life from the robot," she said.
"It is hard to explain just how thrilling it is to use Rex, or what makes it so magical, as it will differ for everyone, but really it was the smallest things that made it so unforgettable. Hugging, cleaning, cooking, standing, reaching, moving... the list is endless."
Morgan was introduced to the lithium battery-powered device by her friend, Frank Gardner, a BBC security correspondent who was left partly paralysed when he was shot in Saudi Arabia in 2004.
She was wary of the technology after becoming used to life in a wheelchair.
"But what has happened, in effect, is that a new door has opened to a world where, despite my disability, I can still have the freedom of standing and moving, but that the condition I have adapted to doesn't need to change," she said.
- APNZ
By Kurt Bayer @KurtBayerAPNZ

Email

Kurt