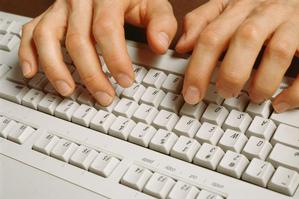 How many keyboard shortcuts do you know? How often do you have to ask for help with an application? When was the last time you infected your computer?
Many of us know the basics of using computers, but struggle when it comes to doing something differently, or fixing a problem.
A new report for the New Zealand Computer Society reckons improving ICT competence could improve worker productivity by one to three hours a week.
That's worth an average of at least $1820 a year in time saved, or $1.7 billion in increased productivity for the nation.
And that doesn't include the time saved because support staff or co-workers aren't spending time fixing your problems.
Chief executive Paul Matthews says the report by KnowledgeWeaversNZ analysed international research on digital literacy and applied the findings to the New Zealand environment.
He says even experienced users can benefit from programmes like the International Computer Driving Licence, which the society is bringing to New Zealand.
"When you consider how IT is used, it's fascinating how little is invested in training people to use it," Matthews says.
The lack of training can be seen as part of a wider underinvestment in IT that contributes to a productivity lag with other countries.
Research into the links between investment in technology and productivity indicate training is vital to get the anticipated productivity boosts.
Matthews says good training also makes for a better workplace.
"Almost all the research shows people who do invest in teaching and tools have lower staff turnover and higher morale," he says.
The report also considers the wider societal implications of digital literacy, as services increasingly go online.
It concluded that being able to use a computer was now an essential life skill and the right of every citizen, as it is becoming increasingly difficult to function in society without those skills.
In response to the report, the Computer Society is developing a website to bring together links to training, whether online or classroom-based.
"We're not there to sell courses or make money. We are a non-profit, so we just try to get people involved," Matthews says.
"We're also asking our community to get this stuff out there, to help people understand the problem so they can fix it."
Matthews says the computer driving licence is offered as a set of standards rather than prescriptions, which can be adapted to any application or technology set.
It's not bound by vendor products, so if someone wants to for example have confidence about introducing open source alternatives like Open Office, they can find or develop courseware.
While the Digital Literacy report covers what's happening in the workforce and the wider society, the Computer Science has also given the Education Ministry a hurry-up on the way IT is used and taught in schools.
Two years ago it reported that none of the ICT-related achievement standards available through NCEA at secondary school level were suitable for assessment purposes.
There was a lack of curriculum support and because there was no national direction or standards, computing and ICT courses varied wildly between schools.
The ministry's initial response was hostile, but after independent experts confirmed the report, it agreed to work with a digital technologies expert panel made up of the society, teachers, tertiary and industry representatives and other stakeholders.
On Christmas eve the society slipped out a report updating progress, which was mainly positive.
While the panel wanted ICT to be considered a separate learning area like science and maths, it will be continued to be lumped in under technology, though in its own stream.
The argument for separation was that technology as taught in schools is mainly about the theory of creating products or systems, without enough practice to capture the imagination of future technologists.
There's also a problem that what's taught in schools as "technology" doesn't meet the entry requirements for a computing degree.
A comprehensive "body of knowledge" has been developed to draft stage, and draft NCEA achievement standards are also expected this year.
New unit standards have been developed, replacing ones which were out of date, expired or irrelevant.
It's hoped that all these moves will lead to ICT being recognised as a serious subject within secondary schools, which will help draw more young people into the industry.
Where there is still concern is the ending this year of the digital technologies guidelines programme, which provides resources for ICT teachers, without any replacement.
"We believe this is the highest risk to the success of these changes, and a significant commitment made to upskilling teachers in this area is necessary," the report says.
Matthews says the ministry still doesn't understand the difference between learning how to use applications and learning the core principals of computer science.
"That is a battle we were waging, but they have come a long way," Matthews says.
ON THE WEB
* www.nzcs.org.nz
* www.ecdl.com/