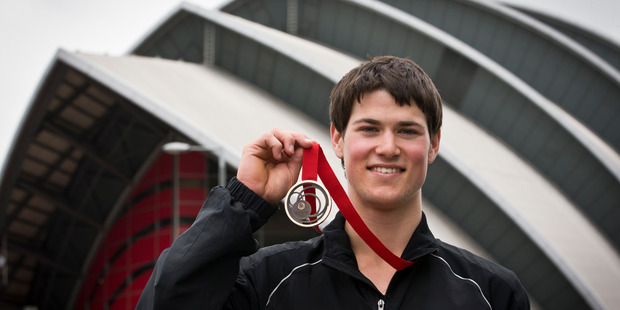 David Bishop put New Zealand gymnastics back on the map by ending a 16-year medal drought with bronze in the men's floor at the Commonwealth Games.
The University of Auckland engineering student pumped his fist as he stepped onto the podium to receive his medal as his coach David Phillips looked on in tears.
No one had expected Bishop to win a medal, so it was an emotional moment as the final results flashed up on screen to show the 24-year-old had beaten Scotland's David Keatings by a score of 0.017.
"I was thinking I had a good shot at making the final," said Bishop. "I knew there was an outside chance at a medal, but it was just an outside chance. I didn't want to focus on that too much. Rather than thinking about results, I just wanted to hit my routine and have fun.
"That was my routine and I hit it as good as I can do. I can hit it better than that, but the other results went well as well.
Maybe I put some pressure on the other guys by going up first and putting on a good score."
England's Matt Whitlock won gold and Canada's Scott Morgan took silver in Glasgow's Hydro Arena to keep up their impressive records in the sport.
Bishop's bronze is New Zealand's first gymanastics medal since the Kuala Lumpur Games in 1998.
That medal was also a bronze in the floor competition and it was won by Bishop's coach, who tried to contain his emotion as his apprentice seized the opportunity on the world stage.
"It's incredible," said Phillips. "The sport doesn't get a lot of media and a lot of support. We just put our heads down and get on with things, so when an athlete like David delivers on the day then it's huge. We know that every gymnast in New Zealand is watching us. We don't have a lot of heroes in our sport so an event like this is huge for gymnastics."