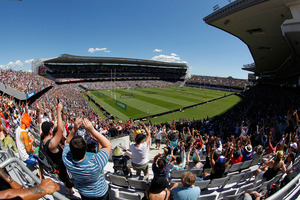 The Warriors have announced they will return to their "spiritual home" of Mt Smart Stadium next season and have no plans for a permanent move to Eden Park.
The decision follows trialling Eden Park with three matches this season to support a stadium strategy being put together by Regional Facilities Auckland, an offshoot of Auckland Council.
Warriors chief executive Wayne Scurrah said the club had analysed thre three games at Eden Park and considered feedback from its partners, members, the public and club ambassador Sir Peter Leitch.
"Taking this into account there are insufficient compelling reasons at this point for us to contemplate a permanent move to Eden Park.
"In the four years we have used Eden Park we have learned a lot about the venue. It offers great facilities and is well set up for large scale rugby league events like the three one-off NRL games in 2011, 2012 and 2013 as well as the NRL Nines and tests the Kiwis have played there.
"The Eden Park team is great to deal with and certainly we are happy to keep the dilaogue open on the longer term potential.
"However, at this point in time we have a range of concerns about the suitability of permanently playing all of our Auckland games there," he said in a written statement.
Warriors owner Eric Watson said Mt Smart had much more in its favour in the current climate.
"We have consistently said it has always been our preference to stay at Mt Smart Stadium. It is and remains our home.
"It is what our members and fans think about the options. We have listened to them.
"Until there are compelling reasons for the club, our partners and supporters to support us moving elsewhere it would be totally irresponsible of us to make a move away from Mt Smart Stadium.
"The smart move for us right now is to stay at our home," Mr Watson said.
The announcement is a blow for the stadium strategy.
Under the strategy the Warriors were to move all of their Auckland matches to Eden Park, speedway was to move from Western Springs to Mt Smart Stadium and Auckland Cricket was to move to a new ground at Western Springs for about 20,000 spectators. The new ground would cost $20 million to $40 million.
According to the council, moving the Warriors to Eden Park offsets the need to spend up to $60 million upgrading Mt Smart Stadium and helps the "lack of financial sustainability" at Eden Park.
Mr Scurrah said the Warriors would like to talk to council about improving facilities at Mt Smart Stadium.
The Warriors have another four years to run on their contract at Mt Smart Stadium.