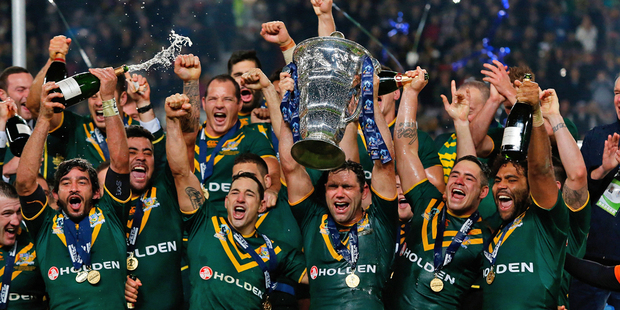 New Zealand will make a strong play to host the 2017 rugby league World Cup final after Australia and New Zealand were last night announced as joint hosts for the next tournament.

The joint Australasian bid beat off one from South Africa and was seen as a "safe pair of hands'' - South Africa didn't play at last year's tournament and the South African government don't recognise rugby league as an official sport.

Australia and New Zealand have promised to deliver the most profitable World Cup in history - last year's event exceeded the profits of A$5 million made at the 2008 event hosted by Australia.

New Zealand will host one of the four pools as well as at least one quarter-final and probably a semifinal. The NZRL will also bid to host the final.

"It won't be an emotional decision,'' NZRL chief executive Phil Holden said. "It will be contestable and pragmatic and what will be best for the tournament overall.

"The first step is we want to make sure we have a semifinal here and I'm confident we will do that and the final will be down to what makes the most commercial sense and I'm confident that stadium in New Zealand will want to put their best case forward.''

New Zealand has never hosted the rugby league World Cup, although the 1988 World Cup final was staged at Eden Park which was the culmination of the three-year worldwide tournament.

The success of last weekend's Auckland Nines at Eden Park was good timing for the joint bid, with rugby league in this country proving they can stage major events.
The New Zealand Government are also keen to host global events on a regular basis and they put their backing behind the Australasian bid.

"It's a massive result for New Zealand rugby league and is going to be a huge benefit to the country overall,'' Holden said. "I'm absolutely delighted that a World Cup tournament like this is going to come to New Zealand for the first time.''

The 2017 tournament is likely to follow the same format as last year's World Cup contested by 14 teams, which will see two pools of four and two pools of three which will also see crossover games.

One of those pools will be based in Townsville and feature games in Papua New Guinea and perhaps even another country in the Pacific Islands.

An organisation will be established to work out where and when games will be played.

"Between us, New Zealand and Australia have proved we're capable of staging major sporting events,'' Holden said. "Rugby league is Papua New Guinea's national sport, so we're very confident of producing something special for the next tournament.''

It was also confirmed last night this year's Anzac test will be played at Sydney's Allianz Stadium on May 2. Holden said they were keen to host next year's Anzac test which will commemorate 100 years since the Gallipoli landings.