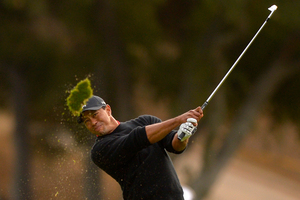 It took Rocco Mediate only a matter of minutes to decide he was going to play in next year's New Zealand Golf Open.
After receiving a text from Champions Tour communications director Mark Williams inquiring about his interest in a trip Downunder, the six-time PGA Tour-winner talked it over with his fiancee and they quickly arrived at a conclusion.
"I told Jessica I got invited to New Zealand and we looked at it and I thought, 'That's kind of neat - I've never been there and I've never even been near there'," Mediate told the Herald from Minneapolis yesterday.
"So it was probably a done deal then we looked up where it was, the weather and all that stuff and it was finished. It took about five minutes."
Mediate, 51, best known for taking Tiger Woods to the brink during the 2008 US Open where he lost in a playoff, will add a nice touch to next year's field.
The tournament, which runs from February 27 to March 2, has been revamped to take on the pro-am format in 2014 with players contesting a round at The Hills and nearby Millbrook Resort before the third and fourth rounds take place at The Hills in Arrowtown, Central Otago.
"I've always liked those. It's kind of like our one over here at Pebble Beach that we play. It'll be fun," Mediate said.
"I enjoy interacting anyway so I'll have a blast with it. I'm just looking forward to coming over and playing in a different place, a whole different world really."
There's a host of top Kiwi professionals already locked in for the New Zealand Open with Michael Hendry, Mark Brown, Greg Turner and Josh Geary confirmed in the field.
Australian favourites Scott Strange, Peter O'Malley and Craig Parry will also line up at The Hills while more names are likely to be added.
- APNZ