All Whites striker resolved to go another round after failed tilt while Sigmund contemplates stepping out.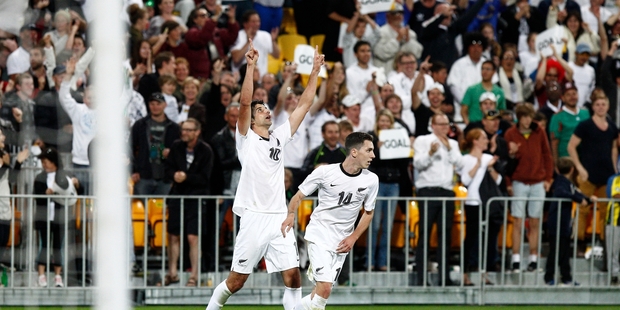 It's four more years for Rory Fallon.
The All Whites striker has confirmed he wants to be involved in another attempt at making the World Cup after New Zealand's aspirations of going to next year's tournament in Brazil were dashed by Mexico in Wellington on Wednesday night.
Fallon scored New Zealand's second goal in the 4-2 loss to El Tri in the home leg of their intercontinental playoff, which ensured the Mexicans took the tie 9-3 on aggregate following their 5-1 win at the Estadio Azteca last week.
Fallon came on as a second-half substitute in both games against Mexico and his late left-foot strike at the Cake Tin marked his fourth international goal and second at the venue after his memorable header against Bahrain in 2009 sent New Zealand to the World Cup in South Africa the following year.
At 31, Fallon said he had no intention of giving up his All Whites shirt as he moved all of his chips into the middle of the table.
"I'm here for another four years," he said. "I've been hurt with some injuries, so it's been hard but I feel like I'm ready to go now and I'm prepared to do another four years with the All Whites. I feel like I've got so much more in me."
The 2018 World Cup will be staged in Russia and New Zealand will now forecast a plan to qualify for the event and that will largely be built around some of the young talent on display against Mexico.
Rookies Bill Tuiloma, Louis Fenton and Storm Roux all impressed to some degree in the defeat, which showed the future may be bright for the All Whites and it's something Fallon wants to be involved in.
Fallon, who plays for Scottish Premiership side St Johnstone, said New Zealand's lead-up to the tie against Mexico - which included only one notable friendly match against Trinidad and Tobago - didn't provide the squad with a stern enough challenge.
"I feel the games we've played before playing Mexico haven't been good enough, haven't been hard enough and to kick on we need to be tested, we need more games, that's the way we are going to kick on," Fallon said.
"It's all about experience. You can't play Mexico without any experience. When we went to the last World Cup all of us were veterans by the time we got to the World Cup. I was 27 but I'd been through a lot of hard yards before even getting there and this is what the young boys need, they need all this. It's the only way to get better."
Meanwhile, one man who might not be involved in New Zealand's next tilt at a World Cup is defender Ben Sigmund. The Phoenix 32-year-old, who didn't feature in either game against Mexico as he sat on the bench, said he wouldn't make a definitive decision immediately but was contemplating stepping down from international duty.
"I'm not going to come out with it or anything," he said. "Water will go under the bridge for a wee while and the new coach will come in and get named and he'll obviously come in and do what he wants to do and whatever it is, we'll wait and see."
Sigmund made his debut for New Zealand against Oman in 2000 and has scored two goals in 29 appearances.
- APNZ