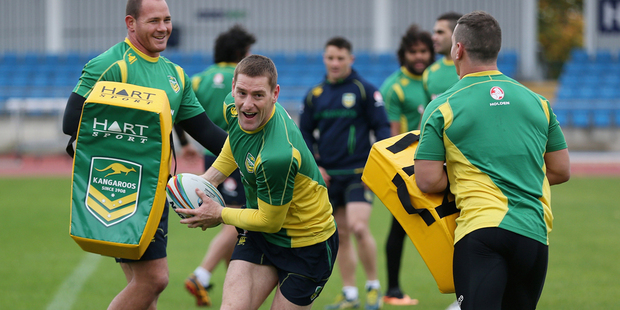 The Kangaroos have dumped Brent Tate from their 20-man squad that was originally named for tomorrow's World Cup quarter final showdown against the United States with Jarryd Hayne expected to take over at right centre.
Tim Sheens was playing poker with his rivals and refusing to name his 17-man starting line up until the final hour before the match.
But yesterday the World Cup organisers gave up Australia's best secret when they would only release a 19-man squad and Tate wasn't in it - which certainly indicates Hayne is now taking over at right centre for the clash against the Tomahawks.
Tate got first crack at the right centre spot in the tournament opener against England and played their again last week against Ireland with Hayne outside him on the wing.
Sheens makes no secret of the fact he sees Tate as his best defensive option but Hayne is an attacking genius who brings different strengths to the team.
Hayne was in devastating form earlier this year going into the State of Origin series before a nasty hamstring injury ruined his year.
After starring in that first Origin game for NSW he only played a couple of games for Parramatta towards the back end of the year which was enough to get him a spot on the World Cup tour.
Hayne said this week in Manchester he has now completely recovered from his injuries and he has looked sharp in his two performances so far against Fiji and Ireland.
Sheens said this week the team that starts against the Tomahawks will be close to what he considers his best going forward in the tournament.
- Daily Telegraph