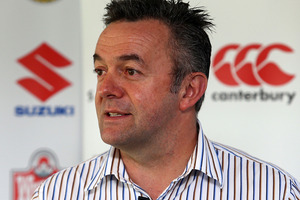 The Warriors will control three teams in 2014 after reaching agreement with the Auckland Rugby League for the NRL club to take over operation of the Vulcans in the New South Wales Cup.
Originally set up by the Mount Albert club as the Auckland Lions in 2007, the Vulcans have until now been run on a joint venture basis between the ARL and the Warriors.
ARL chairman Cameron McGregor said the timing was right for the Warriors to take control. It means the ARL's financial contribution would end and the name will also change.
"Our original aim was to develop an outlet for local amateur players to play at the best level possible but stay in Auckland,'' McGregor said. "A lot of our club players have benefited from the exposure with the Vulcans and have brought that valuable experience back into our Fox Memorial competition.
"Apart from players, the Vulcans have also provided a pathway for our local coaches, football staff, managers and match officials and we look forward to this continuing in the future.
"We've thoroughly enjoyed and have benefited from our involvement with the Vulcans and working with the Warriors. However, the time is right for us to focus even more on our Auckland club football and rugby league at school level, especially on the back of the college rugby league first XIII competition's hugely successful first season.''
Rohan Smith will return to Mount Smart Stadium next year as fulltime coach of the Warriors' New South Wales Cup side - he previously worked with the club in 2003-2004. Smith was assistant coach of the Penrith team which beat the Junior Warriors in this year's NYC grand final.
Warriors chief executive Wayne Scurrah said the Warriors' NSW Cup side will now give the club an official team for players not selected to play in the NRL as well as being used to develop NYC players. This year the club put more of an emphasis on the Vulcans, taking some of the best players from the Junior Warriors to help prepare them for the demands of the NRL.
David Bhana, Siliva Havili, Raymond Faitala-Mariner, Albert Vete and David Fusitua all played for the Vulcans when eligible for the under-20s competition and Bhana, Havili, Faitala-Mariner and Vete have all been upgraded to fulltime NRL contracts for the 2014 season.
Scurrah said additional players would also be contracted to the NSW Cup side.
Scurrah applauded the ARL for supporting a team which had helped to develop players and rugby league in the Auckland region.
"Without the ARL's foresight, we wouldn't have had the Vulcans at all,'' he said.
"We're enormously grateful to them for making the venture possible and providing such valuable assistance in helping with the development of rugby league players and the game generally.
"After seven years it's a good time for us to fully integrate the team into our organisation and provide a seamless transition from our development squad to the NYC, the New South Wales Cup and the NRL. This means the ARL's financial contribution to the New South Wales Cup team will end immediately.''
- APNZ