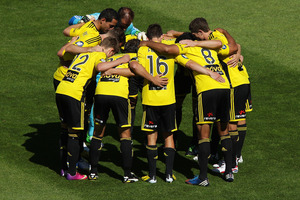 With a new major sponsor on board, the Wellington Phoenix management now have to find a way to bring the punters through the gates at the Cake Tin this season.

Huawei, the world's largest telecoms equipment supplier, which partners 45 of the world's top 50 operators, were unveiled today as the new principal sponsor of the Phoenix.

They've penned a three-year agreement with New Zealand's only professional football side after foundation sponsor, Sony, announced earlier this month they would scale back their involvement with the Wellingtonians.

Phoenix general manager David Dome couldn't talk specifics but said the deal with Huawei was a great outcome for the club.

"It's a more comprehensive deal [than what we had with Sony] so it'll now allow us to go in to different areas,'' Dome said.

"But certainly in terms of deals it gives us a little bit of security with that three years.''

The Phoenix have a licence in the A-League for another three years and Dome said they were working with the FFA around an extension and if that was to fall in to place, Huawei may look to sign on for longer.

Now the big challenge will be inspiring the club's fanbase, who were put through torturous times last season as the Phoenix picked up the wooden spoon, to head through the turnstiles.

"It's only part of the puzzle,'' Dome said of the new sponsor. "That's our principal partner, our cornerstone is now ticked. We still have to get that 10,000 in the crowd at each game to make sure the financials always stack up.''

When the Welnix group took over the Phoenix two years ago they preached sustainability after the club had bled money under former owner Terry Serepisos.

The Phoenix averaged just under 7000 for their home fixtures last summer - including their matches in Auckland and Dunedin - and finding a way to boost that figure by more than 3000 will be a tough ask.

"There's no doubt that winning is all part of that and we are extremely confident with Ernie Merrick on board that he is doing the best he can in that area and that we are giving ourselves every opportunity to have a winning team with Ernie on board,'' Dome said.

New coach Merrick has injected a dose of enthusiasm among the playing group, while there is a renewed optimism among the fans that the former Melbourne Victory mentor may be able to give the club something extra.

Merrick has signed a string of young players and there's no denying the Phoenix will have a green look to them this season.

The Phoenix beat a lower North Island, Central League selection 2-1 in Kapiti yesterday via a double to the free-scoring Jeremy Brockie.

Merrick's side will meet New Zealand A, Auckland City and a Wellington-based side during the final weeks of their pre-season campaign before the season proper gets underway on October 13 against the Brisbane Roar at Westpac Stadium.
- APNZ