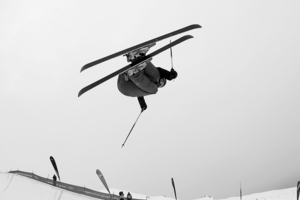 American hotshot Devin Logan marked her return from a serious injury in style with victory in a fog-curtailed World Cup freeski halfpipe at the Winter Games in Wanaka today.
The blustery wind and mist trimmed the final from two runs to a solitary turn for both the men and women.
Logan, 20, damaged a knee shortly after winning the halfpipe gold at last year's Winter Games in Cardrona. But her class shone through on a difficult, stop-start day at the same venue today as the two-time overall world freeski champion produced a score of 84.60.
Her quality run included a left 540 tail, left ally-oop mute, mute grab, right flare safety, left 720 safety with a switch left ally-oop 360 to finish.
Fellow American Angeli Vanlaanen, who had managed the best qualifying score a day earlier, took silver with 80.0 while Swiss competitor Marjam Jaeger was third on 74.8.
''The weather didn't co-operate as everyone had hoped but I'm stoked to be back from my injury and happy to take top spot," Logan, from Vermont, said.
New Zealand's final representative, Janina Kuzma took a fall in the second half of her run and finished 10th of the 12 finalists.
Japan's Ayana Onozuka, who had been second in qualifying, also fell and finished 11th.
Finn Antti-Jussi Kemppainen (crrt) showed why he's rated among the bright young racers with victory in the men's final.
Kemppainen, ranked 19th in halfpipe and 14th overall in freeskiing, was fourth best in qualifying but his 86.6 was good enough to edge out American 17-year-old Aaron Blunck's 83.8. Another American, Taylor Seaton, took third in 79.4.
''I didn't really expect anything this cool but it's definitely a good start for the season," Kemppainen said.
New Zealand's Lyndon Sheehan, delighted to produce the second best score in qualifying, finished fourth on a 76.4 while top qualifier, Canadian Mike Riddle, tumbled to ninth.
New Zealand's other entry, Beau-James Wells, put off by a wind gust, took a fall and finished 11th.
Snowboarders, including the sport's highest profile athlete, American Shaun White, make their entry to the Games on Sunday with qualifying in the World Cup slopestyle event; the men's FIS giant slalom is at Coronet Peak; and the curling competition begins in Naseby.
WINTER GAMES
WORLD CUP HALFPIPE
(Cardrona)
Finals (one run only)
Men:A-J. Kemppainen (Finland) 86.6 1, A. Blunck (US) 83.8 2, T. Seaton (US) 79.4 3, L. Sheehan (NZ) 76.4 4, A. Ferreira (US) 71.0 5. Also: B-J. Wells (NZ) 22.0 11.
Women: D. Logan (US) 84.6 1, A. Vanlaanen (US) 80.0 2, M. Jaeger (Switzerland) 74.8 3, K. Aerts (Belgium) 65.2 4, A. Drew (US) 65.0 5. Also: J. Kuzma (NZ) 47.8 10.