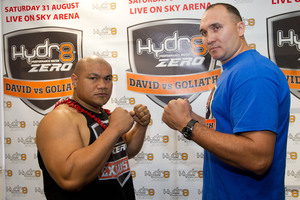 David Tua's boxing bout against Belarusian heavyweight Alexander Ustinov has been postponed until Saturday November 16.
Tua picked up a calf muscle injury last week which has forced a delay to the fight originally scheduled for August 31.
The challenge of venue availability and clashes with other significant sports events saw a slightly longer than expected hiatus for both fight camps.
Ustinov will return home for training but he is content with the new date.
"Coming to New Zealand to prepare for August 31 has been great," he said. Even though the fight has been delayed, when I come back in November I will know what to expect inside and outside of the ring. These things happen in boxing. I'm just looking forward to the fight and taking on the world famous David Tua."
Tua is also unfazed by the delay.
"It is what it is," he said. "All you can do is be positive, and to be honest, there is plenty to be positive about. The delay gives me even more time to get into peak condition and it also allows me to leave no stone unturned when it comes to the strategy of the fight."
Duco Events promoter David Higgins noted that injuries were a regular challenge in the boxing business.
"This is the fight game and every now and again fighters get injured and plans change," Higgins said.
-nzherald.co.nz