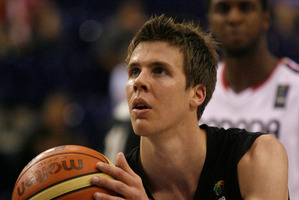 Former NBA player Wang Zhizhi scored on the buzzer to deprive the young Tall Blacks side a well-deserved victory in their second outing on Chinese soil last night (NZT).
After dropping the first game, New Zealand were trailing 61-59 at Luoyang when small forward Tom Abercrombie hit a three-pointer to put his side up with just 10 seconds left on the clock.
But the home team were always likely to look to veteran seven-footer Wang in the post and, when the Kiwi defence closed down a drive to the hoop, he was left open under the basket to slot the winning points in a 63-62 victory.
"Obviously, we were pretty disappointed with the loss," said assistant coach Paul Henare. "We had a great opportunity to pick up a win against China in China and that doesn't happen very often.
"But, after a night to reflect, we have to appreciate what we are up against, the guys who are putting in the minutes. It was a pretty good performance."
New Zealand controlled most of the contest, scoring eight unanswered points early to lead 33-20 at halftime. Guard Corey Webster and forward BJ Anthony were on target from long distance, with Webster's two three-pointers soon after halftime extending the margin to 17 points.
But China mounted a comeback, scoring 10 straight points to mount a rally that became a 23-9 final-quarter avalanche, culminating in the nailbiting finish.
As he did in the first test two nights ago, Webster led all scorers with 19 points, including four-of-eight from the arc. Captain Mika Vukona scored 12 points, while Anthony drained three from deep for nine points.
As a team, the Tall Blacks shot 9/16 from afar and out-rebounded their rivals 25-15, restricting them to just one offensive rebound. But they again paid dearly at the free-throw line, where China outscored them 15-5 and enjoyed a 25-8 edge in opportunities.
"You never want to harp on about it, but when you come to play China in China, you have to expect some flak from the refs," Henare said. "It's hard to explain to people back home without it seeming like sour grapes.
"You expect it, you just have to be that much better and for most of these two games, I thought we were."
This was the hosts' final outing before attempting to defend their Fiba Asia title in Manilla next month, while the Tall Blacks travel to Shenzhen for a four-team tournament that starts with a clash against Cameroon on Sunday.
The eight-game tour of China is preparation for the Fiba Oceania Championship home-and-away series against Australia, beginning at the North Shore Events Centre on August 14.
- APNZ