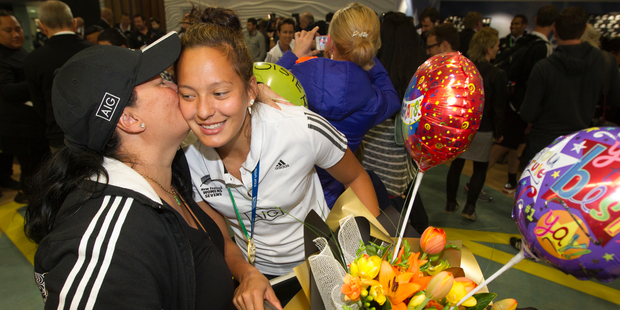 Winning the women's World Cup in sevens was extra special for one young member of the team.
Tyla Nathan-Wong, the youngest member of the New Zealand women's rugby sevens side, celebrated the team's first ever World Cup win just before her 19th birthday.
Miss Nathan-Wong, whose birthday was the day after the team's 29-12 victory against Canada in the final, said the win made it one of her favourite birthdays.
"It's just unreal. It was the best birthday present that I could ask for."
The "sevens sisters" arrived home from Moscow yesterday with the men's sevens team who were also crowned World Cup champions.
Dozens of family and friends turned up at Auckland Airport just after lunch to celebrate the teams' victorious return.
A haka was performed by relatives of the players as an official welcoming back into the country.
There were tears of joy at the arrival gate from the birthday girl's mum Deanne Nathan-Wong who had not seen her daughter in almost a month.
"Honestly, words can't really express how as parents we feel so proud, but not just of [Tyla], of all of the girls," said Mrs Nathan-Wong. "They're just incredible, they really are."
Both teams were ecstatic about their achievements, but happy to be back on home soil.
"It's pretty special," said DJ Forbes, captain of the men's team who beat England 33-0 in the final.
"I don't think it's really sunk in, but it's good to be home."
Women's captain Huriana Manuel, who dedicated the win to her aunt who passed away the week before the final, said she was proud of all her teammates.
"It's a surreal feeling, you know we've worked so hard this whole 12 months," she said.
"I'm very proud of the girls and we did it for each other."
Coach Sir Gordon Tietjens, said he was going to spend the next few days recuperating at Ohope Beach, and that both teams deserve a good rest after an impressive stint of rugby.
"I'm immensely proud, they've done a tremendous job to go away and win the World Cup."