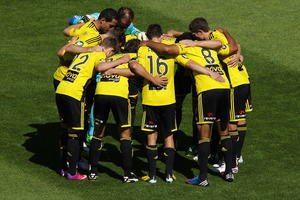 The Wellington Phoenix have confirmed Napier and Christchurch as two of the venues for two home games to be played away from Wellington next season.
The round three match on Sunday, October 27 against Newcastle Jets will be played at McLean Park in Napier and the round five match against Perth Glory will be played on Saturday, November 9 at AMI Stadium in Christchurch.
Wellington Phoenix general manager David Dome said the decisions to take the games to Napier and Christchurch were for quite different reasons.
"A large number of fans have been asking us for some time to take a game to Napier on Labour weekend as it coincides with the national under-19 tournament staged there every year,'' Dome said.
"Of course a significant number of our fans go to that tournament and they have lobbied us for several seasons to combine that tournament with a Phoenix match.
"Up until now, we have not been able to find a partner to make this happen, but this year thanks to a consortium of progressive local business people led by Tim Claudatos, we are thrilled to be able to make this happen.''
Napier businessman Tim Claudatos said hosting a Phoenix match in Napier was a huge honour for the region.
The round five match against Perth Glory has been confirmed for AMI Stadium in Christchurch, with the option that the Phoenix may play one game a season there for the next three seasons should the schedule permit.
"Vbase in Christchurch who run AMI Stadium approached us with the idea of us playing regularly in Christchurch,'' Dome said.
"Our past games in Christchurch have been excellent and we wanted to show our support for the Garden City as the rebuild gets underway.
"This is how we as a football club can help Christchurch in our way - by scheduling football matches there and supporting the local football community and at the same time giving AMI Stadium an extra game per year to hopefully pull some revenue in for the City.''
Vbase general manager Russell Kenny said it was important for Canterbury that AMI Stadium continues to host quality sporting events.
"Sport is a huge part of life in this region and AMI Stadium is central to the sporting community,'' Kenny said.
Tickets for both matches go on sale with the rest of the Phoenix season on August 1.
The final game in the 2013/14 schedule still to be confirmed is the Round 17 match on February 1. This venue for this game is partly dependent on the availability of Westpac Stadium due to the Indian cricket team's tour of New Zealand during this month, which is not expected to be confirmed until the end of June.
- APNZ