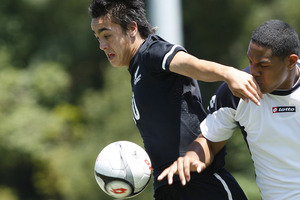 The Junior All Whites completed their final warm-up game for the Under-20 World Cup with a 2-1 defeat to Egypt in Antalya, Turkey, overnight (NZT).
Egypt opened the scoring on 15 minutes through midfielder Refeat Ahmed before Cameron Howieson equalised early in the second half. A goal 12 minutes from time from midfielder Mahmoud Kahraba gave Egypt victory.
The Junior All Whites will now move to their base in Bursa for the under-20 World Cup where they will play their first game against Uzbekistan on Tuesday (NZT) before facing Uruguay and Croatia.
- APNZ