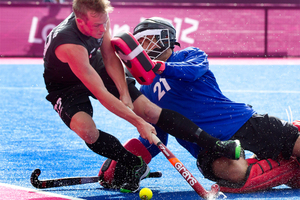 A 3-3 draw with the strong Dutch team gave New Zealand a solid start to their World League semifinal tournament in Rotterdam today.
Indeed the sixth-ranked Black Sticks, playing a few hours after the national women' team thumped India 7-0, led 3-1 early in the second half, despite being dominated in terms of possession and scoring opportunities.
However the Netherlands ended strongly and diligent work by the defence, including goalkeeper Hamish McGregor, was required to keep the point.
Striker Hugo Inglis scored twice in the first half, with Jacob Smith nudging the third goal in early in the second half from close range.
Jeroen Hertzberger scored twice for the third-ranked Netherlands before Valentin Verga got the equaliser late on.
''When you're 3-1 up you want to go on and win the game,'' Black Sticks captain Dean Couzins said.
''But back to 3-3 the Dutch had quite a lot of momentum. After that period we're pretty pleased with the draw.''
New Zealand play Ireland in their second game on Saturday night. Ireland kicked off their Pool B play with a 4-4 draw against India.