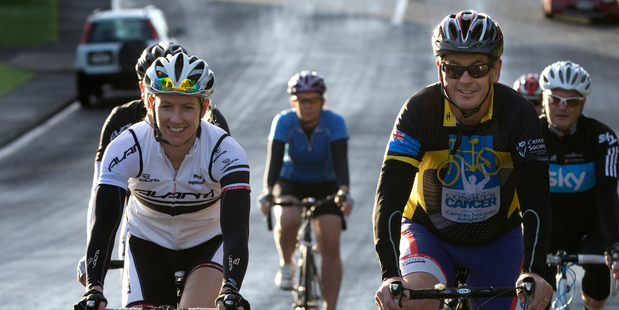 Kiwis are being called on to cycle 200km in two days to help raise money for the fight against cancer - with a world champion already in training for the inaugural event.
Champion cyclist Alison Shanks joined a group of cyclists training yesterday morning for The Ride to Conquer Cancer, which will be held in November.
The event will be the first in New Zealand, after raising $26 million in three years in Australia.
John Loof, chief executive of Cancer Society Auckland, said it would generate crucial funding for research and clinical trials at the Auckland Cancer Society Research Centre in the University of Auckland.
He hoped well over 1000 riders would participate.
"The Cancer Society believes so much more can be done in terms of medical research into cancer, but that work takes money.
"So we have this new event to support our current research programme, to allow it to grow and really extend it.
This is really important work, this is life-saving work."
Mr Loof said the final route had not been settled, but riders would leave from a location in central Auckland and ride 100km through the countryside.
"There's a campsite that's just there waiting for the riders - and there's hot showers, massage tables, entertainment and free food.
"And they stay overnight, and the next day they ride 100km back into town, and there's a big ceremony at the finish line as well."
Mr Loof said it was great to have the support of Shanks for what will be an annual event.
"She's fantastic, a true champion on the bike and off the bike. She's a world champion athlete, and she's made time in her life for this event. And she was taking it easy on us [yesterday] morning.
"I think her world like all of us has been touched by cancer. When we said, can you help us out? She came to the party quickly ... she recognises it's something that touches everyone in the country."
However, no cycling ability was necessary for the challenge, which would feature regular pit-stops along the route.
The ride
*Ride 200km in two days to help raise money for the fight against cancer.
*The event will be the first in New Zealand, after raising $26 million in three years in Australia.
*Riders will leave from a location in central Auckland and ride 100km through the countryside. They stay overnight somewhere and the next day they ride 100km back into town.
*This will take place on November 16 and 17. Registration details and more information can be found at www.conquercancer.org.nz