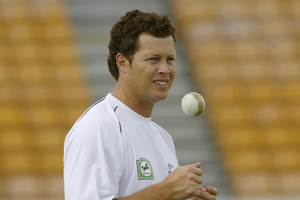 Paul Wiseman has been recruited as a guide on local conditions for the New Zealand cricket tour of England.
Wiseman's experience on the county circuit is hard to match among current New Zealand-based players and coaches.
He spent three seasons with the Durham squad during 2007-09. They won the county championship in the last two of those years.
His spin bowling expertise will also be tapped, having played 25 tests and 15 one-day internationals for New Zealand during 1998-2005. He is set to join the squad in the week before the first test at Lord's starting May 16.
Ex-Pakistani cricketer Saqlain Mushtaq, a former spin guru with the New Zealand side, is now working with Bangladesh.
Wiseman is someone New Zealand Cricket sees as having a future, given his selection as co-coach of the national under-19s last year.
He and new Auckland coach Matt Horne took the New Zealand side to the semifinals of the World Cup in Queensland.
Wiseman has coached the Canterbury under-17 and under-19 teams to wins at national tournaments.
He also helped set up an annual scholarship with Durham for young Canterbury players; Tom Latham was the first recipient three years ago.
Wiseman's official title is 'Canterbury network coach' but he was recently awarded a Prime Minister's scholarship to learn more about coaching spin bowling on the Sub-continent.
Wiseman is understood to have attended a number of academies and joined the coaching staff of Indian Premier League franchise Royal Challengers Bangalore for several matches of the current tournament.
In addition to his duties with New Zealand over the next few weeks, Wiseman will visit Loughborough University in Leicestershire, home to some of Britain's leading coaches, sports scientists and support staff.
The university is renowned for its cricket research, including the development of the next generation of bowling machine in 2006 which replicates the spin of Shane Warne.