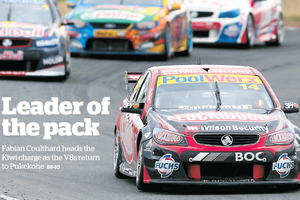 A brief look at the sports stories that are making news this morning.
In the paper
ITM 400
The ITM 400 Auckland takes place at Pukekohe over the weekend. The Herald SuperSport liftout leads with the motoracing event with all the information you need if you're heading down to see the action.
Fabian Coulthard - Leader of the pack
New V8s thrill for Whincup
Home turf advantage for Coulthard
Blues v Hurricanes
Bruise bros have black jerseys in sights
Savea siblings give All Black coach plenty to ponder for the future as both boys show off wide portfolio of skills at lightning pace in Super Rugby for Canes.
Halai aims to calm nerves in return Canes clash
Not many wings upstage Julian Savea as Frank Halai managed on his Blues debut.
Breakers v Wildcats
Boucher hustles toward lucky 13
Dillon Boucher always knew he was fast. He may not have been able to jump the highest and he may not have had the sweetest jump shot, but he thought he was as quick as anyone.
Overnight news
Aussie has early Masters lead
Australian Marc Leishman has taken a two-shot lead midway through the first round of the Masters at Augusta National.
Deans slammed for Cooper omission
Former Wallaby Greg Martin has launched an incredible assault on coach Robbie Deans, claiming he is sabotaging Australian rugby.
Chelsea stumble into Europa semis
Chelsea stumbled into the semifinals of the Europa League today after losing to 3-2 at Rubin Kazan following a rousing second-half fightback by the Russian team.
Coming up
-Tracey Nelson crunches the numbers ahead of the latest round of Super 15 in her Stats Don't Lie blog.
-A full wrap of all the first round action at Augusta.
-Live sport tonight with the Highlanders hosting the Brumbies, the Breakers looking to win a third straight NBL title in Perth and Sonny Bill taking on his old team the Bulldogs.