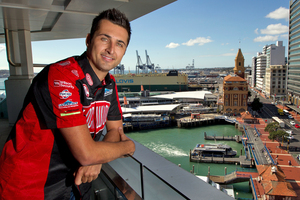 Fabian Coulthard is best known for surviving a spectacular crash on the first lap at Bathurst in 2010 when his car veered sideways at 290km/h and barrel-rolled before stopping amid a sea of wreckage and dust.
It was 11 seconds of chaos for the 30-year-old but stories about it have lingered for much longer. Virtually everywhere he goes, someone reminds him of the incident and he now has videos and photos of the crash on his phone to show people interested who want to relive it.
Coulthard doesn't seem to mind. After all, he walked away without a scratch on him. More than that, though, it seems he would rather people were speaking about him than not.
"It's awesome I can talk about it," he says. "Some people would find it difficult. I'm just grateful I got out the other side and I'm here to tell the tale. I was very lucky. The guy upstairs was looking after me that day."
Coulthard has been looking after himself in recent weeks and arrives at this weekend's ITM 400 Auckland at Pukekohe as the form driver in the V8 Supercars. Defending champion Jamie Whincup leads the series but Coulthard won twice at Tasmania last weekend and also notched three wins in the non-championship races at the Australian Grand Prix.
He might sit just seventh in the standings - he had a disastrous weekend at the Clipsal 500 with a 19th and DNF - but many see him as the man to beat at Pukekohe.
It hasn't always been the case. He had his first taste of V8 Supercars in 2005 but has failed to finish inside the top 10 of the championship standings and his win in Tasmania last weekend was his first in his career.
He has always been seen as a driver with ability - he won seven New Zealand karting titles, collected the New Zealand Formula Ford title as a teenager, won the 2005 Carerra Cup (primary support category for V8 Supercars) and was a former teammate of Lewis Hamilton in the British Formula Renault - but he's never had the machinery to get him on the podium.
All of that has changed with the arrival of the new Cars of the Future in V8 Supercars this year which has, in most people's eyes, levelled the playing field.
Previously Coulthard bounced around teams every couple of years and last year he finished 11th in a car built in 2008 that he says "wasn't up to scratch".
He might not see himself as a threat yet - although privately he might think that - but others are aware of what he has achieved.
"I think [the Car of the Future] has a potential to even things up but we are not seeing too much of a level playing field at the moment," Whincup points out. "We are seeing Fabian Coulthard absolutely dominate, really."
It has translated into a much more confident Coulthard. He isn't afraid to speak his mind - he reignited the debate around Shane Van Gisbergen this week when he reiterated his belief his fellow Kiwi driver misled everyone about his 'retirement' and subsequent comeback six weeks later - but being opinionated is a common trait among V8 Supercars drivers.
It certainly helps when you have results to back up the words and people might now take more notice of him.
He hasn't always had a following among New Zealand fans - having a name like Fabian doesn't tend to resonate with V8 fans and he isn't Kiwi cult hero Greg Murphy - but that will change if he continues to notch up the wins.
"My confidence is high," Coulthard says. "To win three races at Albert Park in front of an F1 crowd was unbelievable. Admittedly they were only practices - they weren't for championship points - but it was a dream."
Coulthard is regarded as a conservative driver whose main priority is to get the car home. That might change a little if he's chasing first rather than 21st but drivers who win the championship accumulate points in most races - Whincup is leading the championship but hasn't won a race all year.
Coulthard is also extremely driven and, outside of a puppy and girlfriend, has few diversions away from motor racing.
"The thing is, my life is racing," he says. "I have been doing it since I was six and, at school, I knew what I wanted to do. You have to dedicate your life to it. But any time I can avoid packing a bag and going away is a good weekend."
Coulthard has special reason to want to do well this weekend, with the Jason Richards Memorial Trophy to be awarded to the best driver across the four drivers.
Richards died of cancer in December 2011 and spent his last two years racing with BJR. He would have turned 37 on Wednesday.
"Obviously Jason played a huge part at Brad Jones Racing, so it would be nice to take that back to Albury [team headquarters] for all the boys," Coulthard said.
It would also provide another reason for people to talk about Coulthard for something other than that crash.