Valerie is determined to dominate and Steven drops college to aim for NBA draft.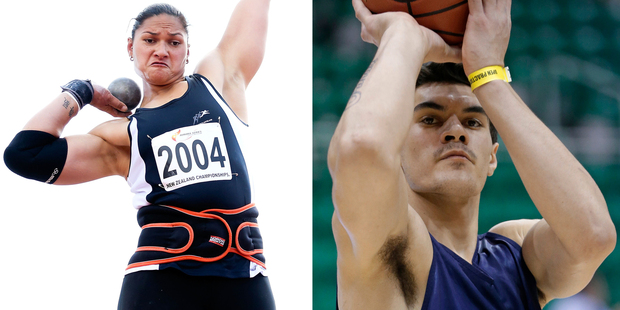 Valerie Adams
The world of women's shot putting has changed considerably over the past 12 months with the drugs ban handed to Nadzeya Ostapchuk but Valerie Adams is determined one thing remains the same - she continues to dominate.
It's been virtually impossible to talk about Adams without also mentioning Ostapchuk given their fierce rivalry over the past decade and it took on an entirely different spectre at the Olympics.
Ostapchuk is serving a one-year ban from the Belarus Athletics Federation for her positive drugs test from the London Games, although the 32-year-old is still to face sanction from the International Amateur Athletic Federation on that test along with another positive result dating back to the 2005 world championships that was recently re-tested.
If Adams had her way, she will never compete against Ostapchuk again.
"Life ban," she said when asked what she wants to see happen. "Simple as that."
Does she expect to see Ostapchuk back on the shot put circuit one day? "Probably not. And I hope not."
Ostapchuk's demise would appear to open the way for Adams to dominate women's shot put at least until Rio in 2016. The Belarusian had been the only person to beat Adams since 2006 - when she won the 2010 world indoor championships in Doha - although suspicion must now be cast on that performance.
A handful of promising Chinese throwers are emerging along with Russia's Yevgeniya Kolodko but Adams' personal best of 21.24m puts her in a different class among the current crop of competitors.
Adams knows it would be dangerous to make assumptions and it is her desire to remain undefeated for as long as possible that motivates her.
Like many athletes, she's found it difficult to find that extra drive in the year after the Olympics but she will soon leave New Zealand to relocate to Switzerland to team up with her coach, Jean-Pierre Egger.
Her season will open with June's diamond league event in Eugene, Oregon with the main focus on August's world championships in Moscow.
"I think I'm pretty good at motivating myself," the two-time Olympic and three-time world champion said. "The world champs and staying unbeaten is great motivation for me." She will head to Europe with some decent form behind her. She threw 20.75m at the The Cloud last month and followed it with 20.02m at the Sydney Track Classic, then 20.37m when she won her 12th national title.
Steven Adams
New Zealand basketball player Steven Adams says he will declare for the NBA draft in June.
After insisting he would return for his second year at University of Pittsburgh, Adams, half brother of double Olympic shot put champion Valerie, has changed his mind and will sign with an agent, thereby forfeiting his final three seasons of college eligibility.
The 2.1m centre announced his intentions yesterday in a statement released by Pitt's athletic department.
"In discussing options with my family and coach [Jamie] Dixon, I feel that it is in my best interest to declare for the NBA draft," Adams said.
"I want to thank everyone at Pitt, including my teammates, coaching staff, the administration and the fans who have all supported me over the last year."
Before his freshman college season, Adams was rated as a possible top 10 NBA draft pick, but has slipped down the rankings because of some indifferent form throughout the year. He is still expected to be drafted in the first round.
Adams was named the Big East's preseason Rookie of the Year and was selected to the conference's All-Rookie team after averaging 7.2 points a game and leading the Panthers in blocked shots (65), rebounding (6.3) and field goal percentage (.571) in 32 starts.
The Panthers reached the NCAA basketball championships last month before losing to Wichita State 73-55 in the opening round. Adams led the side with 13 points and 11 rebounds in the defeat.
"After talking with Steven and his family, we fully support him in this decision," Dixon said. "We support him in choosing to pursue his dreams and in having the opportunity to provide for his family back in New Zealand."
The draft is scheduled for June 27 at New York's Madison Square Garden.
If drafted, Adams would be the third New Zealander to play in the NBA, following on from Sean Marks and Kirk Penney.
- APNZ