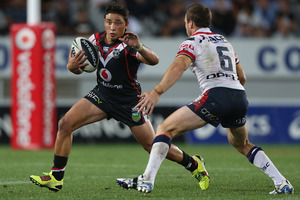 The Warriors may be without a win in eight months but they have no plans to replace Matt Elliott with Kangaroos coach Tim Sheens.
Reports across the Tasman yesterday suggested Sheens, who last season coached Wests Tigers, could be rushed into the Warriors role within the next fortnight, but the Australian refuted that claim.
"That's news to me, there's no truth to that at all," he said. "I'm looking to getting back into club coaching at some stage, but I've not been approached by the Warriors. I've got the Australian job and that's my focus. So it's a pretty ridiculous rumour."
That the rumours surrounding Elliott's job security have begun to swirl after only three games is a reflection of the Warriors' current state. Today, when they face the Cowboys at Mt Smart Stadium, they will attempt to snap an 11-match losing run.
Having lost eight straight games to conclude last season, Elliott has so far been unable to revive the fortunes of the franchise since taking over from Brian McClennan. Warriors co-owners Eric Watson and Sir Owen Glenn have been adamant that, in Elliott, they have the right man for the job, even if the results are yet to support that.
Sheens was initially linked with a move to Auckland when McClennan's successor was being sought. Sheens certainly fitted the bill, with four NRL Premierships to his name after successful stints with Canberra and Wests.
He is being paid by the Tigers after reaching an agreement with the club when they signed Mick Potter from the English Super League. But the Warriors will not be supplementing that income any time soon, with talk of a potential coaching change seemingly premature.
However, the pressure will still be on Elliott to reverse his side's worrying recent trend.
Should they fail to beat fellow strugglers North Queensland, the Warriors will be the only winless side in the NRL, but the club's chances will be aided by the playing at Mt Smart Stadium for the first time this season.
- APNZ