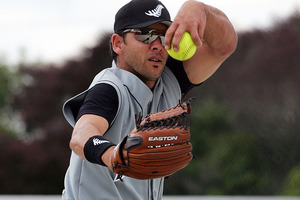 With the minnows dispatched in clinical fashion, New Zealand will face their first true test tomorrow at the World Softball Championships.
The Black Sox beat Colombia 4-0 at Rosedale Park on the North Shore today, making it two shutouts in a row following Friday's night's 5-0 victory against Mexico.
The Latin American pair was never going to provide a serious challenge for the five-time champions, but the manner of victories was impressive and will give Eddie Kohlhase's side confidence heading into tomorrow afternoon's clash with Japan.
New Zealand then play Canada and Argentina, a stretch of games Kohlhase said the Black Sox were targeting as they bid to regain the title they lost to Australia four years ago.
"Basically, the strategy was to get past the first two and then we were aiming at the next three as being the end of our pool play," the coach said. "With these two wins, if we grab one or two wins over the next two days we're first or second [in pool B]."
That position would stand the hosts in good stead heading into Friday's playoffs, a point when pitching will become pivotal in the bid to progress to next Sunday's final.
New Zealand's four-man pitching staff have all impressed in the opening two games, preventing any opposing baserunner from reaching third base and striking out 29 across 14 innings.
Pitching was a something of a concern heading into the tournament, with the Black Sox lacking a power arm boasted by the likes of Australia. Kohlhase said before the competition that New Zealand had experienced something of a lost generation among men on the mound, but he was satisfied with what he had seen so far.
"You've got to be happy," he said. "I think [pitching coach] Chubb Tangaroa has done a fantastic job with them and two good catchers in Aaron Stroman-Neemia and Pat Shannon. They've been putting a lot of work in and have a little bit more to go."
After Heinie Shannon and Nik Hayes struck out eight batters each against Mexico, Penese Iosefo and Jeremy Manley picked up the baton in fine fashion against Colombia. The pair combined for a no-hitter to ensure a three-run fourth inning was all the offence the Black Sox needed.
Iosefo said, with bigger obstacles on the horizon, he and Manley weren't going to get carried away with their performance but he was pleased to stake his claim to be handed the ball at the business end of the tournament.
"At least we know we've put our foot in the door for tomorrow against Japan. One of us is going to get the ball - we don't know which one. That's what our whole job is to do, so hopefully it's me."
Manley, who came into the tournament short of practise after a knee injury was compounded by snow in his Illinois base, said he and his fellow pitchers were aided by the friendly competition within the staff .
"Competition breeds confidence within the boys. I wanted to pick up what Penese had already laid out. He threw really well so I just wanted to come in and complement him."
- APNZ