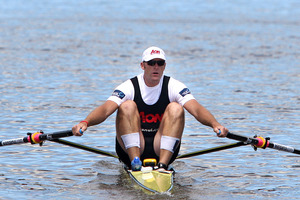 Less than a fortnight out from a self-imposed deadline on his future, Olympic gold medallist rower Mahe Drysdale is still weighing up his future.
The single sculler has vowed to make a decision by the end of the year over his plans going forward, with the Billy Webb Challenge last weekend giving him a feel for being back in the boat.
Drysdale is still no closer to a decision.
"I guess I thought it was going to be an easy decision but it's taken me a lot longer than I thought.''
He said he's loving having freedom in his life, and says he's been looking at other career paths.
"Everyday it changes as to what I want to do so for me I've got to get away from rowing. So I'll be doing something else, but I need a challenge, I need something to really get my teeth stuck into.''
Drysdale said while he's a qualified accountant, it doesn't really appeal to go back to.
Immediately after his London win, Drysdale indicated a desire to compete in events such as Coast to Coast.