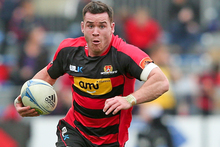 Former All Black halfback Jimmy Cowan has spat the dummy about the pressures of the ITM Cup, but no one in the champion Canterbury camp is complaining.
Cowan, about to join Gloucester, fired a broadside at interprovincial footie when he played his 100th match for Southland at the weekend.
He didn't enjoy the ITM Cup and coaches and players were limited in their ability to train, recover, and prepare between matches, he said.
And a lot of people were sick of rugby every day from Tuesday night to Sunday, he said.
However, they're not complaining in the Canterbury team, which had the toughest of starts to the 2012 NPC with three matches in eight days.
Cowan was a really competitive man, and used to winning, and success, said Canterbury coach Tabai Matson.
"He's playing in a team that hasn't won a game, and probably whether he realises it or not, when you don't get outcomes, tough competitors like him become really dissatisfied.''
It was probably the first year he'd played in the three games in one week-type scenarios, and he was finding it difficult, he said.
"I can understand his frustration, but for players in the ITM Cup in teams now, it's the nature of the game.
"It's popular for the fans, so on the back of that it will probably be the same format for years to come.''
The fans weren't stale with it, he said. "Everyone I talk to on the street loves going home and watching a game on a Tuesday or a Wednesday or Thursday or Friday.''
He'd heard the Sky viewing figures had been "phenomenal.''
And his players weren't complaining - they played more and trained less, Matson pointed out. Last year Canterbury had only five full NPC training sessions, but they'd had a few more this year.
Midfield back Ryan Crotty said the players were happy, too, and his views were "probably the exact opposite'' to Cowan's.
"We love it, it's the best time of the year,'' he said. "You get to hang out with your mates all the time - we're a really tight bunch here, we all get along really well. It's my favourite time of the year.''
Crotty said he'd rather play than train. "We get to go out there and play two games in a week. It's not easy on the body, but if you recover properly and do the right things away from the field you'll cope with it OK.''
He also felt fans were happy with all the rugby: "I know my old man loves it - he'd watch rugby in his sleep if he could. You get pretty decent crowds and afternoon games are quite cool. You get the kids down on a nice sunny afternoon especially when it gets cold here in winter.''
By Nick Tolerton