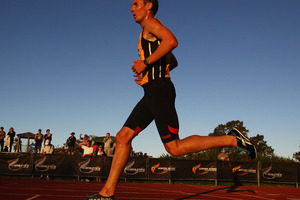 One of Nick Willis' three career goals proved elusive overnight but he hopes the lessons learned can help him achieve another next month. Photo / Getty Images.
One of Nick Willis' three career goals proved elusive overnight but he hopes the lessons learned can help him achieve another next month.
Willis came up short in his attempt to beat John Walker's national mile record at the Diamond League meet in London, finishing fourth in the race and more than four seconds outside of the 3:49.08 Walker ran 20 years ago.
In atypical style, Willis came out strong and led the field for much of the race before tiring and being overhauled on the final straight. With the Olympics in sight, Willis is toying with his strategy to find a formula that will result in 1500m gold on August 8.
Running the slightly longer distance this weekend was an opportunity too good to turn down, enabling Willis the chance to check off one item from his career bucket list.
"It's in the top three things remaining on my list that I'd like to have in my career," he said. "An Olympic gold medal, a sub-3.30 1500m and the sub-3.50 mile.
It's probably the least difficult of the three but it still would mean a great deal to me.
"You don't get a crack at a sub-3.50 very often and it's something I need to check off my list before I retire in the next four or five years. This was as good an opportunity as any."
That particular box remained unticked following the race, though the early signs were encouraging. Known to lurk near the middle of the pack before making a move late in the race - a method which earned him Olympic silver in Beijing - Willis did the exact opposite today and was left paying the price.
"I guess that's part of my personality - I'm a man of extremes," Willis said. "If I'm going to be patient I'm going to be very patient. Today I tried to over-compensate a bit and be more aggressive, and I'm a bit frustrated that it meant being the most aggressive I could possibly be."
There were positives for the 29-year-old. After tapering off his training in recent weeks to freshen up his legs before the Games, Willis said he found them in good condition.
And racing against many of the men he can expect to meet on the 1500m startline in London, Willis enjoyed the chance to assess his rivals.
"In the Olympic final, hoping that I'm there, maybe I'll go out and lead it and surprise them again - maybe I was bluffing when I let them catch me at the end," he joked.
"I've never won a race where I haven't been in the top four coming into the bell, so if I want to have a chance of winning London I have to be in the top three or four with 400m to go."
Willis will race again next weekend in Monaco, the venue where last year he set his personal best, and he called it another good gauge to judge his form.
That will again be contested over the 1500m distance and it remains to be seen when Willis will get his next shot at Walker's time. For now, though, Walker's place in the record books remains safe.
"It just shows how good Walker's record was."
- APNZ