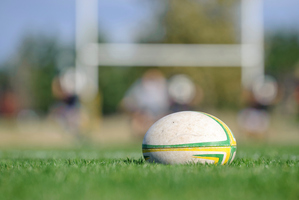 There are concerns that an issue that almost caused the 2009 Bledisloe Cup match in Tokyo to be cancelled at the last minute could also affect the 2019 World Cup in Japan.
It was kept under wraps at the time but the Herald on Sunday understands the transtasman match was in serious jeopardy, as close as 36 hours before kickoff.
Both Australian and New Zealand management teams had serious concerns about the shallow in-goal areas and grass verges on the sidelines, fearing serious injury could occur with a heavy tackle near the sideline or dead ball line.
In the end, a few extra layers of astroturf were piled on behind each dead ball line and beside the sideline, to give added protection from the running track.
Watching a recent Top League match between Panasonic and NTT Docomo the issue was still there for all to see, with the in-goal area at both ends of the pitch comprised of two dozen narrow strips of temporary astroturf lying across a running track.
In 2019, it is expected that some of the stadia used will be football grounds, shorter than rugby fields, given there are no in-goal areas. Some also have athletic tracks, which compound the problem.
Organisers have acknowledged the issue and say they are considering their options.
"For the next World Cup (in England), it may also be an issue if they use football grounds," says 2019 World Cup organising committee chief executive Koji Tokumasu. "For that reason, it has already been discussed that there may be very small in-goal areas, some even six metres. If you apply that, we may be able to use football stadiums here."
For the 2002 Fifa World Cup, the athletics track at both ends of Yokohama Stadium (which hosted the opening game and the final) was dug up and replaced by natural grass but Tokumasu hopes to avoid such drastic and costly steps.
"Hopefully we won't need to do that kind of construction," says Tokumasu. "There is now very good artificial turf technology and it is very difficult to see a difference between natural turf and artificial turf. If you have good technology, you can cover up a running track with artificial turf - you don't have to take it out."
Tokumasu also expects two to three new purpose-built stadiums to be built by local governments, as well as the new national stadium in the capital.
The other major issue to come out of the 2009 Bledisloe Cup clash, which was watched by almost 45,000 people, should be easier to fix. By halftime, the stadium had run out of beer. The Japanese don't typically drink at rugby matches and had not counted on the thirsty demands of the vast numbers of expats in the crowd.

• Michael Burgess travelled to Japan with the assistance of the Asia New Zealand Foundation.