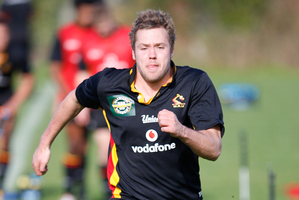 Hosts Australia stood in the way from the All Blacks Sevens opening their defence of the IRB series in winning fashion on the Gold Coast last night.
New Zealand were looking to end a run of back to back defeats at the Australian event after booking a spot against the hosts in the final. New Zealand haven't won the title since the event's final year in Adelaide in 2011. The last two years they came close only to lose to Fiji in the final.
Australia's booked their first ever finals appearance on home soil with a 24-19 win over South Africa in the semifinals.
The All Blacks Sevens advanced to their fifth final in Australia with a 14-5 win over England who earlier eliminated defending champions Fiji in the quarter-finals. New Zealand recovered from an early 5-0 deficit and a one-man disadvantage when Tim Mikkelson was sent to the bin. They took a 7-5 lead into the break following a Scott Curry try, while Mikkelson made up for his earlier indiscretion to score New Zealand's second try which clinched the win.
Earlier New Zealand made light work of Samoa in the quarter-finals with a 40-0 thrashing.
Meanwhile Gold Coast will remain Australia's sevens destination for the immediate future.
ARU sevens general manager Anthony Eddy said it was hoped Gold Coast could one day match the status of iconic events such as the Hong Kong, Dubai or Wellington rounds.
"It is in its infancy and it takes a long time to build an event such as this to the same sort of level of a Hong Kong or whatever it might be," Eddy told AAP.
"There's a Commonwealth Games here in 2018. From that perspective I think we can build this event and really make this a home of sevens rugby.
Eddy said discussions about extending the deal with the Queensland government would commence after this weekend's tournament.