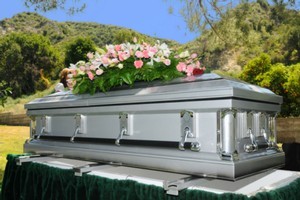 Cremation is the most popular choice for New Zealanders when their time comes - although nearly one in 10 would donate their bodies to science.
A Herald-DigiPoll survey asked respondents what they wanted to happen to their bodies when they died, with 48.8 per cent opting for cremation. Burial was chosen by 32.7 per cent and 12.1 per cent planned to donate their bodies to science.
The unusual process of being dissolved in acid was chosen by 0.9 per cent - all females aged 39 or under.
The process, alkaline hydrolysis, dissolves bodies, reducing them to ash, and is said to use one-seventh the energy of cremation.
People seemed to grow more comfortable with cremation as they aged - 55 per cent of those aged 70 and above chose it, it compared with 47 per cent in the 18-39 age bracket.
Bob Russell, manager of Davis Funerals, the largest funeral firm in Auckland, said it had a cremation rate of 70-75 per cent. Cost was a major factor, as cremation at Purewa Cemetery, for example, cost $529 compared with $6934 for a plot and burial.
"But there are other factors. I think the modern generation are possibly not cemetery visitors as our older parents used to be."
Mr Russell said religious and cultural practices played a part.
Most Maori and Pacific Islanders opted for burial, for example, but while the Catholic Church once forbade cremation, an increasing number of Catholics were now cremated.
Auckland real estate agent Katherine Binning, 55, said she would probably donate her body to science.
Ms Binning, who is not religious, said she was not at all squeamish: "If they're going to cut you up and remove things, that's fine".
She said if she could help somebody in death it would be a way to give back for a life which included "three wonderful daughters ... beautiful grandchildren, with two more on the way".
Funeral Directors Association president Tony Garing said that although many felt like Ms Binning, the number who donated their bodies was much smaller, and limited to medical schools in Auckland, Wellington, Christchurch and Dunedin.
Mr Garing said burial was still popular in rural areas, but the shift to cremation in urban areas was driven by a lessening in the role of religion.
"In the major cities, 50 per cent or more of funerals are now held away from churches, with civil celebrants taking services."
When you die, do you want to be:
Cremated 48.8%
Buried 32.7%
Donated to science 12.1%
Dissolved in an acid bath 0.9%
Don't know 5.5%
By gender:
Cremated
Male 45.7% Female 51.7%
Buried
Male 33.7% Female 31.7%
Donated to science
Male 15.6% Female 8.9%
Dissolved in an acid bath
Male -- Female 1.9%
Don't know
Male 4.9% Female 5.8%