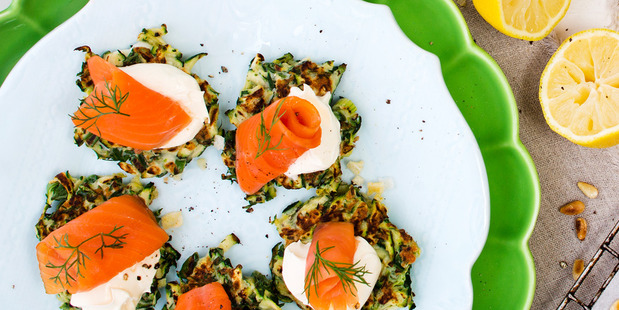 Makes 12
• 2 courgettes, grated
• 1 spring onion, finely chopped
• 2 cloves garlic, crushed
• ¼ cup dill, chopped
• ¼ cup parsley, chopped
• ½ cup grated parmesan
• 2 Tbsp self-raising flour
• 1 egg
• pepper and salt
• 2 Tbsp oil
• 100g creme fraiche
• 100g smoked salmon
• lemon

1. Place the grated courgettes in a tea towel and squeeze out the excess juice.
2. In a medium-sized bowl combine the courgettes, spring onion, garlic, dill, parsley, parmesan, flour, egg, pepper and salt. Mix well.
3. Heat the oil in a frying pan to a medium heat. Place spoonfuls in the pan a few at a time, and cook for 3 or 4 minutes or until they start to bubble. Turn and cook for a further 3 or 4 minutes.
4. Serve topped with creme fraiche, smoked salmon and a squeeze of lemon.

- VIVA