Rich-lister selling waterfront holiday home to realise dream of US road trip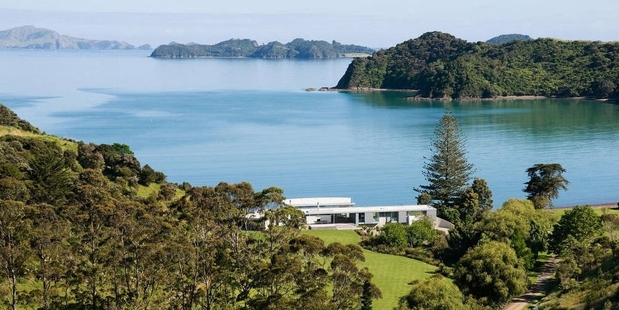 A New Zealand rich-lister has put his Bay of Islands palatial retreat up for sale, saying he is keen to move on to tick off his "bucket list" of life-long dreams.
Cameron Gregory, a founder of Metropolitan Glass, and his wife Tracey were drawn to the 22ha spread overlooking Paroa Bay, near Russell, a decade ago and have planted 400,000 native trees around a new home.
After enjoying the property's seclusion, deep water anchorage and house designed for family holidays, the investor said: "We love the place, we still go up there but there are things we want to go and do."
On the list is an extensive road trip through the United States, searching for classic cars to add to his collection and cruising the Mediterranean by boat with family.
Sprawling over 1,000sqm, the house has six bedrooms in separated family and guest wings and space for eight cars in the basement.
It is nearly seven times the size of the average New Zealand home, according to Quotable Value.
There is also a three-bedroom caretaker's cottage set back from the house.
Architect Andre Hodgskin said to develop this project today could cost up to $12 million.
However, Bayleys Paihia real estate salesman Chester Rendell said it was expected to sell for around half that.
The property is for sale through a tender process, closing on April 17.
The Far North District Council rateable valuation has a capital value of $4.5 million. "They put the value of the house at $2 million but you could not build the kitchen for that," said Mr Rendell. "I suspect building costs over the last six years have risen dramatically, especially at this top end of construction."
The property is 15 minutes' drive on a sealed road from both the Opua car ferry and Russell.
It is an area of secluded bush and luxurious beach holiday homes of other businessmen who feature in the National Business Review Rich List.
The 2013 edition lists Mr Gregory's property and investment portfolio at $145 million.
In 2006, the Herald reported that he and two partners, Andrew Smith and John Bedogni, shared a windfall of about $350 million after they sold Metropolitan Glass, the glass manufacturer they founded 20 years before.

Waterfront retreat
194 Paroa Rd, Russell, Bay of Islands
• 15 minutes from Opua car ferry and historic Russell township.
• $6 million estimated price.
• 22ha waterfront property with 1000sq m house and cottage.
• Owners in the area include opera singer Dame Kiri Te Kanawa, Team New Zealand director Gary Paykel, businessmen Craig Heatley, Chris Mace, Terry Jarvis, Peter Masfen, John Bayley, Trevor Farmer and Mark Wyborn.