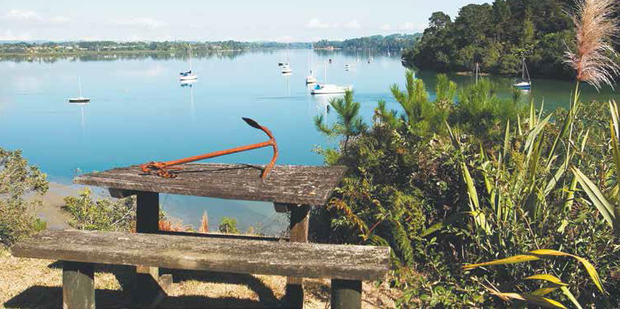 Roading upgrades and route changes have had a big impact on the fortunes of Greenhithe over the past four decades.
When the Upper Harbour Bridge was opened in the 1970s it linked Greenhithe (then part of North Shore City) with Hobsonville (in the then-Waitakere City) on the other side of the upper reaches of the Waitemata Harbour.
While this route provided easier access to the North Shore for Hobsonville residents and the growing communities in Whenuapai, Kumeu and Huapai, it meant the arterial route through Greenhithe became busier and more congested. Traffic jams were common at rush hour and it was a nightmare for residents trying to get home.
But in the past decade things have improved for Greenhithe residents with the construction of the Upper Harbour Highway and the widening of the Upper Harbour Bridge. Along with the Greenhithe deviation roadworks, these developments mean traffic effectively bypasses the suburb although residents get to enjoy easy motorway access.
And this arrangement has only improved with the connection of the highway to the Northwestern Motorway, making West Auckland much more accessible. A dedicated cycleway alongside the motorway has also been opened up.
Greenhithe's convenient road links combined with its quiet, leafy setting have created an upsurge of interest from buyers, particularly those keen on the large sections and village feel of 'old Greenhithe', which is nearer to the water than 'new Greenhithe', with its modern homes on smaller, low-maintenance sites in subdivisions on the eastern side of the village.
As Clare Ellis, of Bayleys, says, "It is in a very convenient location, minutes from Albany, close to local and private schooling, and the Westfield Mall with cinema complex. Greenhithe's local village offers a selection of specialty shops including convenience store, bakery, takeaways and hairdressers, centred on a very Mactive community hall."
As well as some good cafes, the village has a local watering hole in the Malt House pub, which also does wood-fired pizzas.
In the heart of Greenhithe is a popular pony club, and at the bottom of Rame Rd there is a launching point used by rowers who train on the upper Waitemata.
Community groups and activities thrive in Greenhithe, which has dog clubs, a fishing club, Guides and Sea Scout groups, tennis and soccer clubs, and a Lions club. The Village Hall and the Old School Building host all sorts of community groups throughout the week.
Typical home-buyers here are professionals, English expats who love the village feel, and families with children.
Patricia Boland, of the Greenhithe Lions, says she and husband Greg have lived in Greenhithe for 11 years and love the community spirit. She says community events such as dog shows, food and wine festivals and old folks' concerts are always well supported.
"It's a fantastic community and you are so close to everything here," says Patricia. "You are not far from Westgate and Albany, with the Massey University campus on your doorstep. Greg works in Newmarket and there's not a single traffic light until he gets to Gillies Ave."
Patricia says real estate prices have shot up as people become more aware of the advantages of living in Greenhithe, and property owners - including the Bolands - are regularly door-knocked to see if they want to sell.
Patricia says, "One of our kids does rowing from down at the bottom of Rame Rd and she was mortified at the thought of us leaving the area."
More to her liking would be the news that the Auckland Council is planning to improve the jetty and build a pontoon to make it easier to launch boats.
PROPERTY PRICES
An entry-level property such as a three-bedroom townhouse on a small section or a bach on a larger site sells in the range of $500,000 to the mid-$600,000s. An average home of three or four bedrooms on a 500sq m to 750sq m section sells from the high $600,000s to the mid-800,000s. Large homes on sites of 1000sq m-plus in popular streets such as Rame Rd, Birchwood Grove and Churchouse Rd sell for $1.2 million to $2 million.
RECENT SALES
Harcourts has three recent sales typical of prices in Greenhithe. An old twobedroom bach/cottage on a nice site at 32 Remu Pl sold for $465,000. A four-bedroom plaster home at 8 Mary Ann Pl with two bathrooms, two living areas, double garage and a view over a reserve was bought for $659,000. An elevated weatherboard and brick home at 93 Upper Harbour Dr with stunning views sold for $1.06 million. It has four bedrooms, two bathrooms, two living areas and double garaging.
ON THE MARKET
Leigh Mosley, of Harcourts, is taking to auction 13 Outlook Rd, a three-bedroom home with three-car garaging and a CV of $570,000. Her colleague Susan Isles has listed 4 Bernard Magnus Ln, a four-bedroom, 329sq m home on 1500sq m with two-car garaging and an asking price of $979,000. John Diprose, of Harcourts, is marketing 125 Upper Harbour Dr, a 620sq m home on 2.5ha. This six-bedroom home has an asking price of $2.695 million and offers a swimming pool, games room and several living rooms.
RENTS
Two-bedroom homes tend to be around the $400-$450 mark per week, while three-bedroom houses generally cost between $500 and $550. Four-bedroom homes start at $550 but luxury dwellings can be $800-$900 a week.
LOCAL ATTRACTIONS
Greenhithe village
A wander around the village leaves you in no doubt why residents love this place. It has an intimate, relaxed feel and enough in the way of shops and business to service everyday needs.
The Waitemata Harbour
The calm waters on this stretch of the harbour make it ideal for rowing or kayaking. Waterskiing and wakeboarding are also popular on these waters. There are many waterfront properties here tucked away from prying eyes.
Wainoni Park
Surrounding residents have great access to this large park via some nicely landscaped gravel paths. The grounds here are beautifully planted and there are also sports fields. It's a pleasant place to walk or cycle.
SCHOOLS IN THE AREA
Greenhithe Primary School, Upper Harbour Primary School, St Paul's School (Massey), Albany Junior High, Albany Senior High.
BEST STREETS
In old Greenhithe, Rame Rd, Roland Rd, Churchouse Rd, Kingfisher Grove, Birchwood Grove and Oscar Rd. In new Greenhithe, Te Wharau Dr and Admirals Court Dr.