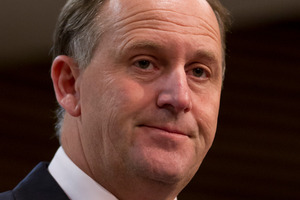 Is John Key so sure of himself and his popularity that he goes out of his way to make life difficult, just to spice things up?
His previous life as an international trader was all high stakes and adrenaline surges during the 80s. Maybe running a sleepy little country at the bottom of the world is just too easy - even during a global recession - and that's why our Prime Minister likes to mix it up a little.
What other reason can there be for yet another memory lapse over what appears to me to be a perfectly legitimate piece of networking?
The job of director of the Government's spy agency was vacant. A recruitment firm sent the State Services Commissioner a list of candidates, but Iain Rennie found none was suitable.
Hang on a minute, thinks John Key. I know just the chap. We've spoken about improving the capability of the civil service in the past. Brother of a mate of mine, sound as a pound, with an impressive CV.
I'll give him a ring and tell him to apply for the job.
So far, so New Zealand.
In a country of four and a half million people, everybody knows everybody and once you're up at a certain executive level, forget about six degrees of separation. It's more like two.
The phone call is made, Ian Fletcher applies for the job, a panel approves him, and a new director is found for the Government Communications Security Bureau.
Where's the problem? The problem is with John Key's increasingly faulty memory. First he says Rennie recommended Fletcher for the job and so he rang Fletcher.
Asked again, he says Rennie suggested Fletcher. And then he concedes he was, in fact, the one who suggested Fletcher for the job. When asked why he didn't explain Fletcher was his recommendation for the post, Key says: "I forgot." Again.
Labour is leaping up and down, demanding an inquiry and fulminating about cronyism. But remember David Parker "suggesting" Clare Curran would be an appropriate candidate for a position at the Ministry for the Environment? The resulting furore cost the Environment Ministry's chief executive his job.
I find it as hard to believe you would forget you had a substantial sum of money in an overseas bank account as I find it hard to believe you would forget why you phoned the brother of a mate to recommend he head the spy bureau.
Whatever the reason for Key's lapse of memory, it's worrying. I accept that given the amount he has to read and the number of people he talks to, he's not going to remember every detail. But not remembering that he suggested a candidate for a very important job and for a position in which the person will be reporting only to him? Come on. He's either absolutely exhausted - which is concerning - or ... I don't know.
I can't imagine why he'd prevaricate around this appointment.
Increasingly, Key is starting to look like the sort of pleasant, well-groomed young man that my mum loved and my dad loathed on sight - for no other reason than he didn't trust them. Key still appears to have the trust of the majority of New Zealanders, but he'd better up the fish oil capsules to boost his memory. Another bout of forgetfulness may start to cost him.