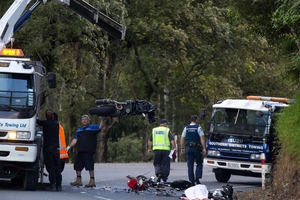 A motorcyclist suffered life-threatening injuries in East Auckland yesterday after colliding with a vehicle and being flipped into the path of another rider.
The second motorcyclist was also injured in the crash, in the Twilight Rd-Kimptons Rd area at Brookby, near Clevedon in East Auckland, about 1.40pm.
Inspector Shawn Rutene of the police northern communications centre said the male motorcyclist came around a bend and collided head-on with a vehicle approaching from the opposite direction.
"He's flipped across the road and taken out another motorcyclist."
The first motorcyclist was critically hurt, and the second rider's injuries were moderate.
It wasn't known whether the two were travelling together, but it was likely, Mr Rutene said.
They had been going in the same direction.
St John Ambulance spokesman Norm Ngatai said two people from the crash were taken to Middlemore Hospital in Otahuhu with injuries including possible broken legs, as well as abdomen and rib injuries.
Late last night, the condition of the critically hurt rider was given as stable.