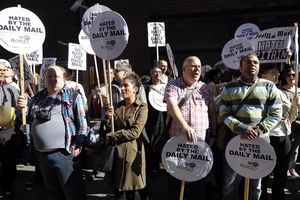 My old dad is now in a rest home so we have been cleaning out my folks' garage. I found all my old diaries.
They are like Adrian Mole, but real.
"Dear Diary, My night brace hurt tonight. I got up, washed, dressed, ate breakfast and walked to school. At school I went to talk to Rosemary, Suzanne and Denise and Ellen but they said go away we're talking about something private. When I came home I pretended I was having a holiday in Greece. Then I pretended I was riding my horse, Gypsy. Then we had rissoles for dinner and watched Warship. I am writing this in my cupboard because I don't want mum to know."
Old people do like to hang on to stuff.
My parents had subscribed to the airmail version of the Guardian for many years. So I wasn't surprised there were dusty stacks of those, along with cuttings about Steve Biko and programmes for Hamilton Operatic Society shows.
But I was surprised my parents had painstakingly saved the print publications of everything I have ever written. They were all mouldy. I threw them in the skip with the 2000 empty yoghurt pottles and a pillow that smelt of cat pee. It felt rather symbolic because journalism certainly seems to be going through a problematic phase at the moment.
Take Chris Powell, managing editor of the local American newspaper the Journal-Inquirer. He has espoused his theory of why nobody wants to buy his newspaper any more. It's not the internet's fault, Powell wrote in an op-ed. Single mothers (that would be me) are to blame, because we all live sordid, transient lives, and unlike virtuous nuclear families we don't subscribe to newspapers.
Then there is the Daily Mail's desperate bid to stave off press regulation with its attempt to discredit the pro-regulation Labour leader Ed Milliband by claiming his father Ralph "hated Britain" because he had been a Marxist.
I knew the Mail was vile, but I didn't realise it was so dense, since it just seems to be providing more ammunition for those who say regulation is sorely needed. A new book, Stop Press: The Last Days of Newspapers by Rachel Buchanan, says news has "become a popularity contest, in which cheap, tasteless, and sometimes sexist 'clickbait' is thrown into the mix."
Back home, Hazel Phillips of Idealog snazzily took on Westpac for advertising its Women of Influence competition on the Stuff website which frequently uses "gratuitously sexualised women in photos with beat-up stories that are largely irrelevant to the everyday reader and belittling to the average woman".
A couple of recent "lead" stories on Stuff: "Smokin' Scarlett" with a fruity picture of Scarlett Johannson being named sexiest woman alive and "Rackin' it up" with a fruity picture of a waitress from the bosom-obsessed bar Hooters.
I'm not sure my parents would have filed that story away for 20 years. Then again, the media's attitude to readers reminds me of a miserable spouse going through the slutty phase as you try to fend off divorce. I'll do anything, anything to make you stay. And we all know how successful that strategy tends to be.
Sorry this seems to have become a curmudgeonly rant about the parlous state of journalism. But then not all journalism is meant to last forever. Some of it is about as memorable as my kids' diary entries.
"Dear Diary, Today I got up early and had some Ovaltine and then I pretended to ice skate. Then I went to ballet and Mrs Denz said my enchainment was a dud and my plies I had my knees in. I couldn't help crying a bit and wished I could disappear. Have I introduced you to my stick called Alfonso? I call him Alf. He is gunny. Bye!"