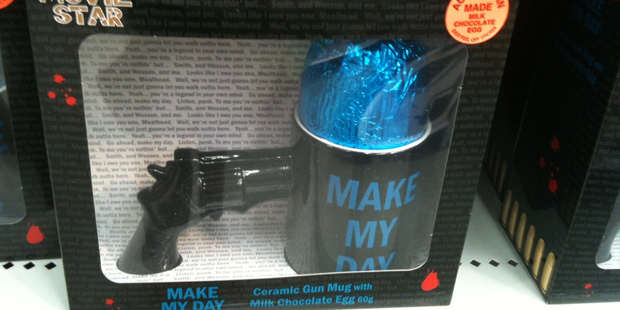 Pyrotechnic warnings capture the imagination
No throwing caution to the wind here, writes Elizabeth ... "My 12-year-old son, a budding pyrotechnician, was scouting the Domain for any firework remnants after Groupe F's incredible show. He found one display shell with the warning: '... step back in a safe distance. Do not have any fart of body over mouth of mortar at any time.' Truly"
God complex at Radio New Zealand
Heard yesterday morning on Radio New Zealand: "Those of you who turned their radios off this morning because of poor reception can now turn them on again as the problem has been fixed." "In all fairness," says Nevile, "the announcer realised how silly this sounded as soon as he spoke, and stifled a bit of a giggle."
Morning Lego drama
"Good morning nice after-hours medical hotline nurse," writes Deb. "My son has swallowed a piece of Lego. What did he swallow? A dagger. A what? A Lego dagger. How big was it? Very small. And how old is your son? Old enough to know better ..."
Misappropriating slang
Sky is launching another re-runs channel for ancient small screen TV shows (a whole new generation of fans for the likes of Bonanza, It Ain't Half Hot Mum, Mork and Mindy and Happy Days). The pay TV provider engaged a brand company to come up with the "channel identity" and the name "Jones" which, according to the press release, is a nod to 70s slang for being "extremely fond of something" ...er, yes, but according to the New York Times the slang term "jones" means an addiction to drugs and is said to have originated among addicts who lived in Great Jones Alley, off Great Jones St.
When online is not all it's cracked up to be
"I'm working on census delivery and collection this year," explains a reader. "During training, we had it emphasised that the online option was one to stress, so it was a part of my little spiel when I handed over the forms. Many residents were interested in it. Of course, if they chose that option, it meant not having to return to pick up the forms. Collectors would get text messages to tell them who had taken the online option. Unfortunately the text messages have often had the wrong information. So collectors knock on doors, only to find that the people there 'did it online days ago'. Many of those people are understandably grumpy to be intruded on by someone who gaily told them 'I won't have to bother you for the forms later on!' and others are just puzzled. I'm wondering if it's the same firm doing the system that manages Novopay?"
Good read: The Professor and the bikini model. Paul Frampton is a 69-year-old physicist who met a Czech bikini model online. Over email and chat, they became romantically involved and she sent him a plane ticket to come meet her at a photo shoot in Bolivia. Then she asked him to bring a bag of hers with him on his flight.
Mashup: I knew you could get stock photography, but stock video is hilarious, especially when you take a business theme for the pictures and add in the sounds of Iggy Azalea's Boss Lady...
News: Be warned, the following story is brief but contains bodily fluids...
Things that make you go hmmm: 1) The Shortland Street props department is selling the coffin, made for Luke Durville who died suddenly of a brain aneurysm...
2) Or maybe you after something for while you're alive, like this motorbike named Suzi.... (NSFW language)
3) Or maybe you'd like to live with four others in a 2 bedroom apartment for $135 a week? (That's living with a couple, sharing a room with a bloke and having someone in the living room)
Video: The history of the earth according to Minute Earth (includes nifty illustrations to make all the talky-talky bits easier to understand)
Got a Sideswipe? Send your pictures, links and anecdotes to Ana here.